Kodi revolutionized the world of online streaming and became one of the most popular media streaming platforms because of its easy access to good quality content. After years of successful service, there is bad news regarding this platform.
The legal issues have been long associated with this platform. The users are uncertain about its future and have reasons to fear that maybe the whole platform will collapse; even the add-ons are being removed. So, to make sure your online streaming proceeds uninterrupted, we have listed some suitable alternatives for free online streaming for you.
Stream Safely with a VPN
Online streaming of premium and exclusive channels has always been an arguable topic. Many policies limit the streaming of live shows and premium media. ISPs and the government are constantly tracking online activities. The selling of private personal data to advertising organizations is also prevailing. The applications offering free streaming (Fire TV, and Amazon Firestick, etc) can make the sources vulnerable. In this time you should set up an effective VPN service to protect your data and stream content anonymously.
I would suggest Shellfire VPN as the safest option to stream content in 2020. With its premium servers in the United States and other 36 countries across 6 continents, this German-based service is reliable in 2020. The Zero-log policy keeps your IP address hidden and displays a virtual IP address to the servers. The restrictions can be unblocked easily and you can enjoy sports channels and PPV content instantly.
The premium plans of Shellfire offer services like PPT and L2TP/IPSec and an Open VPN is offered in the basic plan. High-quality streaming and high end-encryption are available in premium plans. This service is compatible with iOS, Mac OS X, Android, Windows, DDR-WRT, and Linux.
Shellfire VPN is ideal if you stream content on Kodi, Plex, or Stermio. The prices are competitive and services are reliable that offer protection of personal data and unblocking of regional restrictions.
1. JRiver MC: Best Video Quality
To obtain services of JRiver Media Center, you have to pay a fixed fee and then many advanced features will be accessible to you like:
Playback of shows and videos
Combination of a clear user interface with a user-friendly library
RedOctober system by default, to play content in high video quality for all digital formats.
change the regional codes too to watch the media of another region
automatic continuation function; can easily pause the content and resume from there anytime
Lossless audio playback: improves the sound quality and prevents any noise or skipping
Ripping: allows the program to run efficiently display high-quality output
Subtitles searched on the internet can be integrated into the video easily.
Theater view interface to take care of all streaming services, like Youtube, on external devices
record multiple videos on different channels and share them in your library
2. Stremio: Best User-Friendly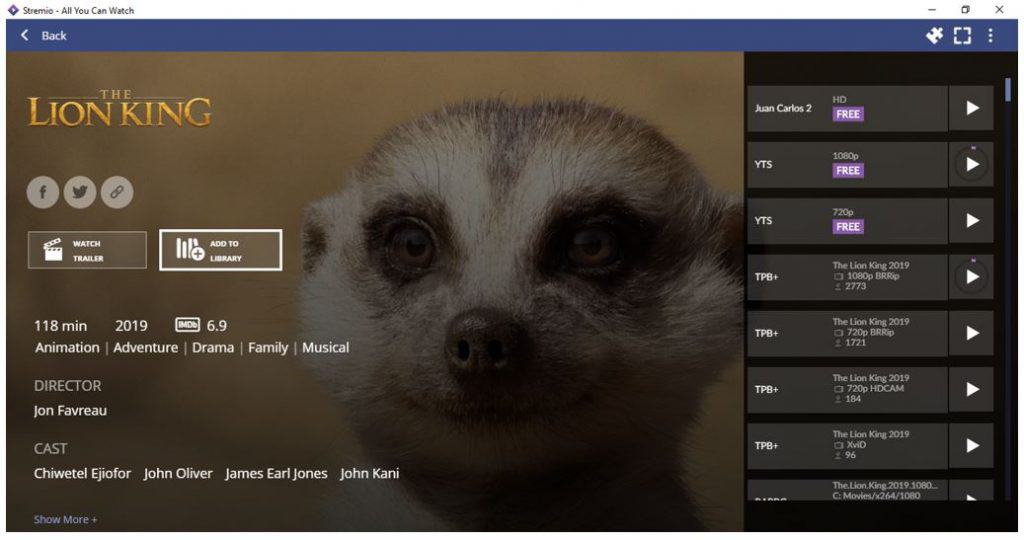 If you looking for an easy media service then Stermio is the best alternative for Kodi because of these features:
A cross-platform service
Watch movies and stream videos and live broadcast
Supports video streaming (official and unofficial)
Supports utility add-ons
Add-ons cannot be installed on the devices locally
Add-ons of Stermio are installed online via the official Stermio account
Once the add-on is installed, it is available on all devices on which the same account is logged in
You don't have to manually search for Stermio addons
All supported add-ons are available in the app lists
Highly user-friendly
Feature content can be seen on the home screen
Open Discover Section to explore further
Library and media is synced on all devices automatically
Find out how to install Stremio on a Firestick or FireTV here. With Stremio you can easily install lots of different addons to continue expanding the services and streams available. Check out our list of the top addons for 2020 on Stremio.
3. Plex: Best Client Server
Plex has many qualities that make it a suitable alternative of Kodi like:
Exceptional client-server design of Plex
Allows you to access your media on any devices that are from the center of the server location
Can create and organize your own media server
Easy to operate and navigate
Plex client is compatible with many device platforms like Android, iOS, Android TV Boxes, and Amazon Fire TV
Would work even if the client and server are not connected to the same network
The server can be accessed from anywhere in the world by the client's device (should be connected to an internet network)
The supported plugins (official and unofficial) are called Plex Channel
You can install them on your servers and it will be made available to all connected clients
You can view unlimited shows and movies
Premium Plex plans have many additional benefits: mobile sync, Line TV and DVR, auto-photo-tagging, and many more
4. Media Portal: Best for PC
If you use your PC for entertainment purposes, then for you, Media Portal is the best Kodi alternative. The following features prove why:
The open-source platform transforms your computers into media centers
Can connect it easily to TV, projectors, DVD players, and many other external devices
Can customize your media library
Compatible with Windows only right now but can be functional on moderately equipped devices
Cannot regard it as a resource-intensive service
Two different versions of this media service; Media Player 2 and Media Player 2
MP 1 was developed before and is a more stable edition
Advancements are still being made regarding MP 2
Developers are prudent and have stated that MP2 has also become stable and this version is being improved further
A wide array of plugins are supported by Media Portal
Watch your favorite shows, live broadcasts, movies, and much more
5. Emby: Best Underrated
The following will convince you that Emby is one of the best alternatives to Kodi:
You can access personal media from any client device
Emby offers a client-server design
Compatible with and supported by many devices
Can easily watch live broadcasts in high-quality
The interface of Emby is user friendly
Allows you to stream without any delay
The customer service is amazing
Can customize your media too.
An aggregator that doesn't provide content
Rather collects it from different sources
Many official and unofficial plugins are supported through which you are granted access to a range of online content and entertaining media
Premium plans of Emby offer a lot of advanced features
Offline media, DVR, mobile sync, cover art, cloud sync, and much more.
So, decide from these 5 Kodi alternatives, which one is best suited for you!
Conclusion
There is no shortage of the best Kodi alternatives in 2020. These platforms are easy to use but precautions are mandatory. Always run the VPN before running any of these streaming platforms for free online entertainment.