BBC iPlayer is the most prominent streaming service in the UK.  It offers live and catch up TV from all the BBC channels, including BBC One, Two, Three and Four, BBC News, CBBC and Radio 1. However, just like other streaming services such as Hulu and Pandora, BBC iPlayer has geo-restrictions.
This means  that though the streaming service itself is free, you can only enjoy it while in the UK. If you are a British expat living in the US, on holiday in the US, or just a person who wants to enjoy BBC Live abroad, you'll find this very frustrating. You won't be able to enjoy the range of high-quality TV, radio shows and movies on your iPad.
All you will be met with is,"BBC iPlayer only works in the UK. Sorry, this is due to rights issues."This is because a license fee funds BBC iPlayer and UK TV-set owners pay for it.
Luckily, it doesn't all stop there. You can work your way around these geographic restrictions. This guide shows you how to watch BBC iPlayer on your iPad in the USA.
How does BBC iPlayer achieve geo-blocking?
When you open the BBC iPlayer app or log on to BBC iPlayer on your iPad, BBC inspects your Public IP address. Your public IP is the identifier that is then used to determine your location. You can easily see yours by just typing 'IP Address' on Google.
This IP address has a direct relation to your Internet Service Provider (ISP) and is from a particular server belonging to the ISP. If that location isn't in the UK, then you are blocked.
Circumventing the Blocking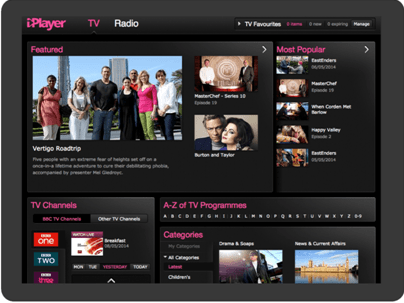 From the above, you can guess that to get access to BBC iPlayer from the USA, you will need to trick the app or website that your iPad is located in the UK. This can be achieved by changing your IP address to one that belongs to the UK.
Sounds hard? Not so hard!
This can be achieved by simply using a VPN and connecting to UK server.
Using a VPN to access BBC iPlayer in the US
While signing up for a VPN to help you access BBC iPlayer while in the US, you need to consider a few things:
Good speeds: Remember that a VPN results in decreased speeds since your traffic is encrypted and then tunneled to a server located far away. Different VPNs, however, have varied effects on speed. A good VPN will allow you to stream HD content easily.
Unlimited Bandwidth: This will allow you to watch content without worrying about being capped.
Top Security & Privacy: Good security and privacy is a major requirement for a good VPN. You will need your VPN for more than just BBC iPlayer, and therefore it needs to be secure and anonymous.
A good VPN that we recommend for watching BBC iPlayer on iPad while in the US, is Shellfire VPN. Shellfire offers servers in all the key countries you'll likely be looking for, and even their free plan has servers in the UK. The VPN has the great balance between speed and security that will prove useful. They also keep no logs of any of your activity.
How about Smart DNS Proxies?
You can also use a Smart DNS Proxy to enjoy BBC TV outside the UK. However, these proxies are not reliable. Not all channels are supported by DNS tunnelling, and so you may still not be able to watch other services. Further, some ISPs do not even allow you to tunnel traffic to other DNS servers, making this an unreliable option.
Setting Up with a VPN on your iPad
To get a VPN running on your iPad,
Sign up with the VPN provider
Download and install the iPad client
Launch the VPN client and sign in
Connect to a UK Server
After doing the above, you will now have a UK IP Address. You can go back to Google and type 'IP Address' to confirm.
Now, launch the BBC iPlayer App on your iPad or go to the BBC iPlayer Website. Enjoy streaming BBC iPlayer on your iPad from the US!