The Coronavirus outbreak continues to teach humanity a strange lesson and if you watch some best virus outbreak movies during the Coronavirus spread you'll notice that the experts were not too far off base! In many of these films, the scriptwriters go through a great deal of research and they meet the experts who point out the possible scenario based on which the plot of the movie is set.
If quarantine days are frustrating then we recommend you check out our list of the top virus outbreak HD movies to watch during COVID lockdown. At least, these movies will teach some sort of protective measures and encourage you to deal with such an unprecedented global lockdown.
How to Watch the Best Virus Outbreak HD Movies during COVID Lockdown?
There are various streaming platforms you can use to watch the best virus outbreak HD movies during COVID lockdown but we recommend Stremio. The reason is that Stremio is a light and smooth application and its really easy to install on a Firestick or Fire Cube. The best part is that you don't have to individually download add-on repositories. Stremio has it all ready for you, just hit the install button net to the add-on and that's it.
After installing Stremio, if you search for a title and you have not installed some of these addons, you will see the message stating 'No streams were found'. The reason is that Stremio uses add-ons to fetch links to media. However, this is really easy to fix.
Install the Best Stremio Addons in Minutes
Simply click the add-on icon you see on the right side of the top menu bar of the Stremio interface (as shown in the image below).

You will see a list of add-ons. You just need to click the install button against each add-on you like to use. Once done, return to the Board (Stremio home screen).
Don't forget to check the new Stremio addon named Virus Outbreak Movies for some specially curated content.

Most of the Stremio add-ons offer streaming links from torrent sites. This is why you need to take extra care when using Stremio media center and you can do it by installing a reliable Virtual Private Network service.
Install the Best VPN for Streaming in 2020
Don't take anything for granted. Stremio is an exceptional, smooth, and highly interactive media organizer but if you use this platform without a VPN service, you might be inviting trouble. The reason is, most of the Stremio add-ons contain Torrent links. ISPs and government agencies are already making sure to restrict the use of Torrent sources to eradicate copyright violations.
Shellfire VPN is the best VPN service for many reasons. It uses its exclusive encryption algorithm that protects your data. The information of your online activities travels through a virtual data tunnel and the encryption makes sure that no hacker or watchdog stands a chance to breach the code.
Shellfire VPN has a huge network of dedicated servers around the world. This global network of VPN servers does not save the log of your online activities. In addition, it allows you to easily bypass regional restrictions on certain premium content by using the IP address from the most suitable location.
Shellfire VPN protects the internet connection from limited bandwidth. These days, the COVID lockdown has forced everyone indoors and there is too much burden on the ISPs due to the excessive use of the internet at any given time. Many ISPs are using the excuse of fair use policies to slow down or block connections for their clients. Fortunately, a VPN like Shellfire VPN hides your online activities from everyone, including your ISP. If you want to enjoy smooth and fast buffer-free streaming then make sure to install Shellfire VPN.
Top 5 Virus Outbreak HD Movies to Watch during COVID Lockdown
This list of the 5 best virus outbreak movies to watch during COVID lockdown will teach you a lot about how to protect yourself, make the best strategy, and stay courageous until the situation gradually fades away.
1. The Happening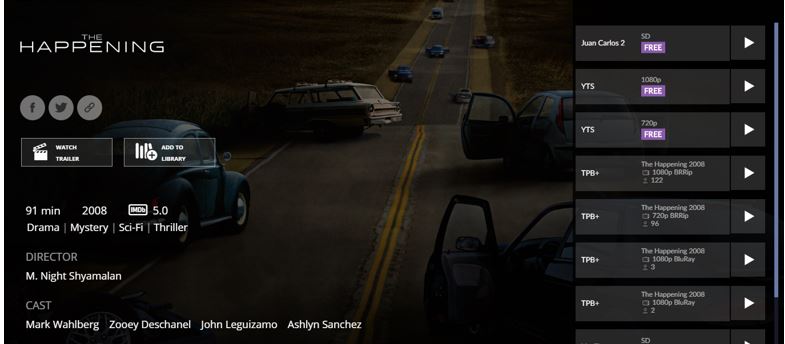 The Happening (2008) features an apocalyptic threat out of the blue that causes havoc on humanity following a series of inexplicable and violent deaths. The cause remains a secret and Elliot Moore – the protagonist is a science teacher who tries to elude the threat with his wife and colleague. Soon, it becomes clear that nobody is safe even on the distant farmland.
2. Quarantine
Quarantine (2008) revolves around a reporter and her cameraman working on a reality TV show. They find themselves quarantined amidst a sudden attack while the CDC workers seal the building and the attacks continue to become increasingly frequent.
3. It Comes at Night
It Comes at Night (2017) features a mysterious apocalypse that leaves only a few survivors on Earth. Two families are cornered in a way that they have to share one home. The alliance is uneasy but they have to somehow keep the evil at bay. But they realize that the threat is already coming from within.
4. Outbreak (1995)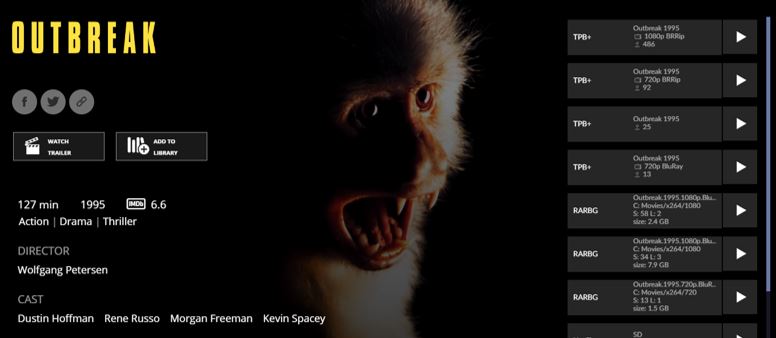 Outbreak (1995) takes you into a situation where an airborne virus threatens humanity. The origin of the virus is an African monkey that was smuggled into the United States. The outbreak begins in California and a team of doctors tries to bring the virus under control. They find themselves in a race against the army to save the residents in the community.
5. Carriers
Carriers (2009) features a killer virus whereas Danny and his brother along with some friends set out into the desert to elude the pandemic. But they realize that the threat is within, more serious than the microbe itself.
Conclusion
You can watch the best virus outbreak HD movies during COVID lockdown but you need to ensure privacy and anonymous streaming. Stremio and most of the media organizing platforms use add-ons that contain links from torrent sites. Download and install a reliable VPN service like Shellfire VPN for safe streaming.