Kodi is a powerful and user-friendly media center app that works on most Android boxes and systems that use Android like the Firestick and Fire TV. Initially developed as an in-home media center to catalog, organize and stream local files, it has quickly become the de facto standard for anyone wanting to stream content like CBC online.
With Kodi, you can also access country-specific content and networks. Unfortunately, this often means that the stream will NOT play outside of the country of its origin. This is known as geoblocking.
So if you intend on watching Canada's beloved broadcasting network, CBC, outside of the country, you are in for bad news. However, there are ways around this geoblocking and all it requires is a bit of time and a VPN connection.
How does a VPN help?
VPN's serve a couple of different functions – developed originally as a way for companies to communicate in a secure and encrypted manner, they have expanded to the streaming media public.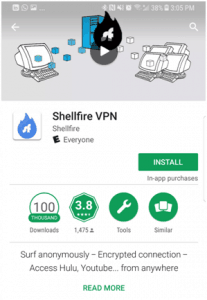 The security and encryption features are still there, but the added benefit to a VPN is that you can mask your connection so that it seems like you are connecting from a different country! There are many different VPN providers out there, but the one I've had the most success with is Shellfire.
Shellfire is available both as an app that you can download directly from the app store on your device, and a hardware appliance that you can plug directly into your Internet router. The Shellfire Box is tiny (the size of a box of matches) but you can use it to secure and encrypt all of the computers and devices in your home. The alternative to this would be installing the app on each device separately.
Setting up the VPN and Accessing the CBC Content
To watch the CBC on Kodi, you simply need to download the CBC app directly from Kodi. You can also access it in a host of different add-ons that provide live TV content, but I'd suggest that you try the CBC app first as that's supported directly by the CBC.
Before you can watch it on the app though, you'll need to make sure that your VPN is configured and set up correctly. Once you've downloaded the VPN onto your system from the app store, simply login in with your user id and password. You'll be presented with a list of servers to connect to that are based in different countries around the world.
Since we're trying to access the CBC, make sure that you select Canada and then click Connect. Follow the on-screen instructions to ensure that your connection is secured and encrypted.
Now that your connection is masked, you can launch Kodi and open the CBC app or any other add-on that you were using for live TV. Let the VPN run in the background. This allows the Kodi app to regulate all incoming traffic to be accessed from the Canadian servers. This will allow you to watch CBC from anywhere in the world.
That's it – you're all done! You now have access to the CBC as if you were sitting in the "Great White North!"