It's always an irritating moment when you look up an app on the Google Play Store and see an error message – something like:
'This item is not available in your country.'
Equally as frustrating, is when you access the Google Play Store account from your web browser and you're blocked with a message like:
'Your device is incompatible with this app!'
If you get to this step, you could just quit and give up like the majority of the sheeple online, or you could persevere and change your Play Store location so that you can get the application!
Understanding Play Store Restrictions
Nowadays, so many products and services are geo-restricted. This is mostly due to licensing agreements. But in many cases, we don't really know why. Maybe because a service is only interested in a particular region so they block out others?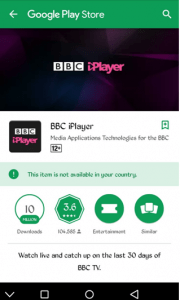 For example, Play Station Consoles are used all over the world, but you can't access the app or even the PS Messages App in certain regions. In some parts of the USA, it's even worse. Football games that are available in one city in a state, are blocked in others. In addition, shows that are available through Netflix everywhere else in the world like Star Trek are blocked and inaccessible unless you pay for another streaming service.
When it comes to the Play Store, different regions have different versions of the store. Some apps can't be accessed from various locations.
For example, you may know how to watch BBC iPlayer while in the USA or just outside the UK. However, when you will need to download the BBC iPlayer app from Play Store, this is what you'll see…
How Google Play Blocks Users
To determine your location, Google Play Store uses three things:
Your Google Wallet Settings
Google Wallet Settings include payment details. These payment details are mostly credit cards, and these easily determine your location since credit cards have unique prefixes. You just need to update your Google Wallet Settings and clear your Cache. Play Store will pick up from there.
However, this method works better for those who have moved country. You also need to ensure that you are not part of a Google Family as that will preclude any changes. What if you just need to download an app? Then you will need the method we will discuss below.
Using your Google Account information
When you use Google Play with an account for the first time, the Play Store collects the first information provided by the device, and this includes the IP address. This information is then stored to the Google account, and it determines the Play Store location you get.
The IP Address
This method works hand in hand with Google Account Information. An IP address is a unique identifier, and IP addresses change from place to place. Google easily identifies your IP information and updates this information to your Google Account.
Changing your Play Store Location
Choose a VPN
To change your Play Store Location, you will first need a VPN. This VPN needs to have a server in the country whose location you want to acquire. If you need an app only available in Brazil, then you will need a VPN with Brazilian servers.
Why a VPN is Important
A VPN like Shellfire VPN is critical when it comes to changing your Play Store location but that's not their only use. VPNs are really important whenever you stream content online for a variety of reasons.
The first which we've mentioned already is their ability to bypass restrictions on content. They do this by allowing you to access a stream by spoofing the sending server. When you connect your device to a VPN server in another country it takes on the IP address of that server. This helps make it seem as if you're local and that the stream can be shared. Shellfire is great in this regards as they have servers all over the world.
The second advantage of VPNs is with their security. VPNs were initially developed as a means for businesses to send information securely and privately from location to location. This security ensures that all of your activities online are private and anonymous also.
Choosing a VPN with many servers is, therefore, an important step. However, using only a VPN doesn't change anything in the Play Store.
Changing Play Store Settings
There are two methods that you can use to make Play Store notice a change in your account.
Removing your Phone's Google Account and Adding it back
Adding a New Google Account
As you might notice, these two methods revolve around playing with accounts. Let's get started.
Step 1: Turn on your VPN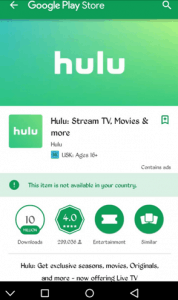 Before you start anything, tunnel your traffic to the country of choice using a VPN. If you want to download Hulu from the USA Play Store. Then you need to use a server in the US.
Notice that currently, I can't access Hulu.
Step 2: Remove your Google Account, or Add a New one
If you only have one account, you'll need to remove it and add it back. To do this, Go to Settings>Accounts>Google. Tap to open the account. Click the Menu button on the top right side. Select Remove Account.
If you have another email, just add it. If you already have one added, jump to the next Step.
Step3: Clear Play Store's Data & Cache
To do this, go to Settings>Downloaded Apps>Play Store. Open it, then tap Clear Data.
Step 4: If you had removed your Account, add it back. Otherwise, go the next Step.
Step 5: With your VPN still turned on, Open Play Store.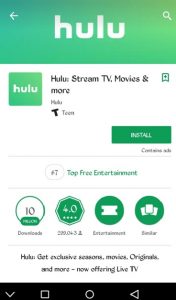 If you had removed your account, your location should have changed.
If you had another account, just open the Play Store Menu on the Top Left side. Next to your email, there's a drop down button. Just select your other account.
It should work like a charm!
Notice that now I can download Hulu.
Conclusion
If you follow any of the above procedures, you'll successfully make Google Play Store think that you are located in a different country. In the odd case that the first method (Removing and Adding back your account) doesn't work for you, then adding a new account will work.
Remember that you will need to have a good VPN turned on. I recommend that you use Shellfire VPN. This is because you will also need the VPN to work with particular geo-restricted services such as Hulu, BBC iPlayer and Netflix.
You don't need to download Hulu and find that your VPN can't unblock their stream. With Shellfire VPN you won't need to worry about any of that!
Don't be restricted just because of your location. Enjoy any apps you need in the world!