If you're anything like me, you've probably been in mourning at the loss of Terrarium TV. The popular Terrarium TV used to be one of the best streaming services available online because of its entertaining features and app support. Terrarium TV was there to satisfy all your entertainment and media streaming needs without going through the process of time-consuming buffering and unnecessary ads. Since the developers of Terrarium TV have now stopped providing any app support and have shut down the app, many users have been disappointed and have been searching for a replacement. One amazing alternative that we have found is known as 'Cinema APK' and it has all the features that Terrarium users are looking for. Let's take a look into the features of Terrarium TV and this new alternative APK, to help you make the right choice.
What Made Terrarium TV the Best?
Terrarium TV, like Popcorn Time, was a service that provided its users with unlimited access to online media content streaming, sourced from a variety of places on the public internet. The service could be connected to Firestick and Android boxes and worked exceptionally well with Android TV. It was the perfect platform for users to watch their favorite movies, TV shows and series all on a single platform. While it didn't offer live TV it had enough catch-up content to keep everyone busy. All the media content was accompanied by the options of multi-language subtitles and had picture quality in HD.
You must be wondering what could ever replace such a perfect platform, but we assure you, we have found the right alternative with the same features that won't disappoint you!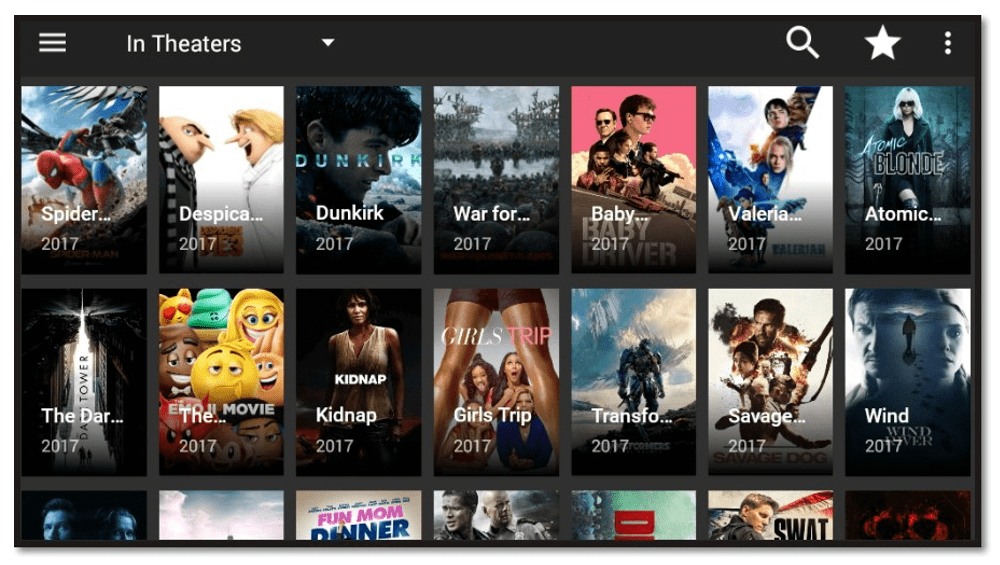 What Does Cinema APK Offer?
Cinema APK is a platform that provides limitless features and delivers the best media content for streaming online. Even though it isn't as popular as Terrarium was, it has many features that make it similar. It has a very easy-to-use and user-friendly interface – you would not be the only one to comment on the fact that Cinema APK matches Terrarium. All the content is scraped from the public internet from various sources and is available on a single platform for easy access. Cinema APK, like Terrarium TV, provides content in HD quality and many more features listed below.
Features
The new release of Cinema APK now provides support for Amazon Fire TV stick and has a new HD Release Category to provide ever more of your favorite content in HD quality.
It can also support Real-Debrid. You will get access to much more HD media content for streaming if you are using Cinema APK with your Real-Debrid account.
TV shows are updated as soon as possible after being aired and subtitles have been updated for Chromecast in this new release. It also supports Netflix, Hulu, Amazon lists, YouTube Red etc.
Using a VPN While Browsing
Cinema APK like Terrarium TV offers access to copyright content. It's critical when using apps of this nature that you have a VPN in place. VPNs play a vital role in protecting you online through two different functions. Primarily they create a secure tunnel between your streaming device and the VPN server. All traffic sent through this tunnel is encrypted and protected and you can rest assured that your activities online will be completely private.
Another advantage to commercial VPNs is their ability to bypass geographic restrictions. You've probably experienced this already. If you ever get a message that "the content you are trying to access is not available in your country" or something like that, you'll know what I mean. Basically what has happened is that specific content creators restrict access based on the region. This might be due to a variety of different factors but what it means to you is that you cannot watch it! By connecting your device to a server in a location where the content is available though, it's really easy to get around this restriction.
When it comes to VPNs there are many options available to you. Free VPNs where most people start to seem like a good choice at first glance. After all, who doesn't like free stuff?! However, you need to very careful going this route as often these VPNs end up installing malware on your computer or device and can also slow down your speeds dramatically. In this case, you really do get what you pay for and it's worth investing in a commercial VPN. The one I always choose is Shellfire VPN. It has servers all over the world to help bypass restrictions on traffic and it's really fast! Check out the Shellfire Box too as that is unique to Shellfire VPN and it opens up many more options. 
Conclusion
After going through all the features that were expected from the alternate of Terrarium TV and all the features that Cinema APK is providing to its users, it is safe to say that Cinema APK is indeed, the best alternative to Terrarium TV. People who have used Terrarium in the past, find it difficult to use other services because of the hassle and confusing interfaces. But, Cinema APK has proved to be easy to use and provides all the right features that you need to enjoy your time watching your favorite movies and TV show. Stay tuned for future posts as we describe additional features of Cinema APK and how to install it on your device.