Amazon Fire TV stick is one of the leading streaming technologies existing today. The Fire TV stick is a device that brings you your favorite TV shows, films, and music available in any downloadable app that exists.
It even allows access to Amazon Prime special content if you're a subscribed member. This also allows you to access your media stored on the Amazon cloud service. It is connected to your viewing device through an HDMI port and is so compact, you can take it with you wherever you go.
How to use the Firestick
The Firestick is one of the leading streaming technologies that bring entertainment channels to your home. People are transitioning from cable and satellite TV to streaming thanks to services like Netflix and Amazon Prime that have one demand media content to watch. The Firestick is very useful because it consolidates all your favorite entertainment in one place.
The Firestick device has a 1GB Ram and 8GB internal memory and supports 1080p viewing. It doesn't just provide Amazon Prime content, it also provides you with other apps to browse. And that means you can access Netflix, Firefox, Hulu, HBOGo, YouTube, even games are available through Amazon's app store. You can even install Kodi on your Firestick following these instructions which help to further extend its capabilities.
A Firestick needs only a power adapter, remote and a USB cable (which are provided) so it can play content on any TV, even if it isn't a smart TV. It has some limitations—Amazon's app store does not provide many apps like Google services. It also may not be able to provide content because of your country of residence. We'll talk about both these problems and their solutions.
Accessing Content On The Firestick
Depending upon the place you are traveling or moving to, some content could be blocked or banned from you. Some content on the Firestick may even be unavailable in your area of residence. This is something called geo-restrictions and is a problem for all kinds of entertainment fans. Services like Hulu, Live Streaming through Youtube, and HBOGo are not available in many countries. And if you still request that content, your ISP won't—can't—provide it to you.
This region block (geo-restrictions) is the common woe for many people who live in region-blocked countries or, those who need to travel. So here is the solution: VPN.
VPN—Features, And Use
A VPN, or virtual private network, is an encrypted connection to the internet that hides you from your ISP and any other snoopers and brings you anonymity on the internet. It was first used for corporations and governments but today is used by even the average internet user. It can be used with smart TVs or streaming technology to overcome the region block if you have the right tool in place, like a Shellfire Box. When you use a VPN, you are given a temporary new IP address (the thing that identifies your device in the place where you live). This is done using a gateway.
At home or when traveling, you may use public networks to access the internet. It's easy for people to hack into your system over a public network. But a VPN protects you from this with the help of encryption. A VPN will also provide high internet speed so that you have the best viewing experience. This is not the case with the ISP. They may throttle your bandwidth (slowing internet speed) which can be a big problem indeed with streaming content.
Finding a good VPN for your Firestick
Some VPNs, usually the free ones, may try to sell your data since they have all access to your browsing history and could make a buck off it too. But established VPNs will erase your logs and make sure that information isn't seen by anyone else. One of the best options here is Shellfire VPN.
Shellfire VPN offers users fast, high-speed servers around the world to help bypass georestrictions and also works really easily with almost any device. With their no-logging policy, you know that you are going to be private and anonymized and your information will not be shared. It is a huge piece of mind for people streaming online.
Sideloading on Firestick
We come to the second problem. The Amazon Firestick houses the Amazon app store, from where you can download apps. But the app store doesn't have too many apps—especially Google services. Fortunately, Firestick allows sideloading, which is downloading whatever apps you need that you can't access through the Amazon store. It's convenient and easy, but there are some settings you need to take care of first.
To sideload apps, do the following:
Open your Firestick home screen and go to Settings.
Proceed to My Fire TV/ Device – Developer Options.
Turn Apps from Unknown Sources option and ADB Debugging option On.
Your Firestick is now ready for sideloading.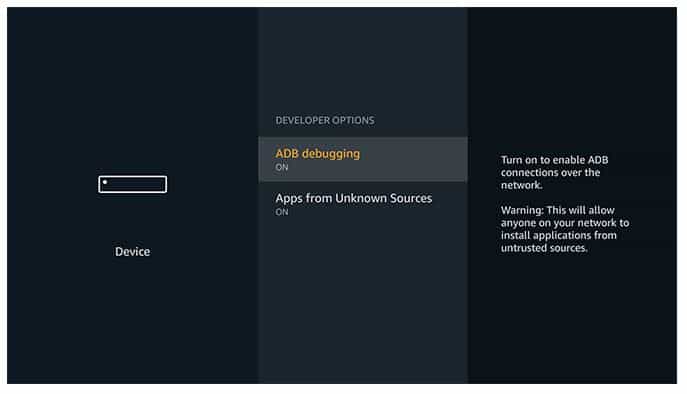 Where to Sideload Your Apps From
To finally sideload apps to your Firestick there are a few ways to do it. The first is to install the Downloader app on your Firestick. This app, which is available in the Amazon app store, will download the apps you need for you. Make sure to follow the steps given above before you continue because otherwise, Downloader won't be able to install your desired apps.
Another way to sideload apps is by using Apps2Fire. This installs whatever app you need from your phone into your Firestick. All it needs is the IP address of your Firestick. It's incredibly convenient.
Precautions
The above apps are very easy and safe to use. You need not worry about the misuse of those two apps. But you need to take precautions while using your Firestick. When you keep your ADB Debugging on, it becomes easy for someone to install malicious apps on your Firestick through a connected network. The Firestick will always prompt you before these installations. So make sure to refuse them if you don't recognize the app.
Conclusion
Firestick is the go-to if you're cutting the cord and making the transition to digital streaming. Through this post you know at least some of its capabilities—storing, viewing media, browsing the internet. Watching as many TV shows and accessible entertainment content. Its safe can be equipped with a VPN, and can be taken wherever you go. Check out this post for some more ideas of how to pump up your Firestick in 2020.
As far as limitations go, Firestick doesn't have many. It supports 1080p, which may be a bummer to people who expect 4K. it only houses 8gb internal storage and can't be expanded, in contrast to the Fire TV console. But it is still fantastic quality and portable where the Fire TV console isn't. And the Firestick is flexible enough to overcome every other limitation, like the region blocks or the lack of apps in the Amazon store.
So don't think too long, and get yourself the extended capabilities of the Firestick!