The UK is full of French speakers, with an estimated 23% of the UK population being able to speak or understand French. Out of these, 300,ooo are France nationals living and working in the country.
If you are a French national, then you sometimes miss home. One option to make you feel at home is to watch a French TV station. Some French speakers also like watching shows and movies in French. Stations like France 24, TF1, TV5Monde, iTele, Canal+, etc are favorites among online audience.
However, most French TV stations are geo-blocked. This is done to comply with license requirements.
Geo-restrictions
If you have attempted to watch French TV in the UK or any other country, you can confirm that your online stream is always blocked. Viewing is only authorised to those people that are within the country.
To determine whether you are in France, their systems check your IP address. Every IP address carries information about your ISP, and which country you are connecting from.
If your IP is from another country, then a TV like TF1.fr will only give you the following message;
If you don't know how to go around this, then the only option remaining is to give in and wait till you go back to France so that you can watch French TV.
However, if you are the go-for-it type, then we've got a solution for you.
Circumventing Geo-restrictions
We have already mentioned that streaming services use your IP address to determine your location. Therefore, the best way to evade being blocked is to change your IP and get a French one.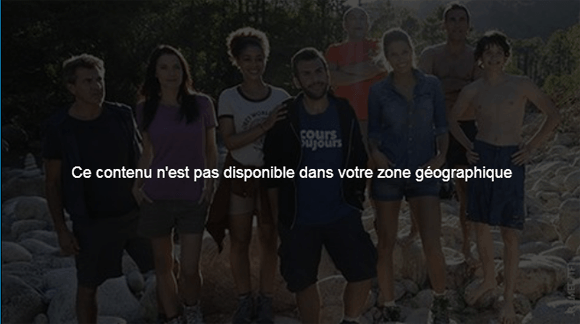 It may sound complicated, but this can be easily achieved using a VPN. VPN stands for Virtual Private Network, which is an online subscription service that lets you spoof your real identity.
To do this, a VPN first encrypts your traffic to secure it and then tunnels it through a secure network of VPN servers. When you connect to a server in France, the VPN conceals your UK identity, and then gives you a French one.
This way, you will gain access to any French TV streaming service.
Selecting a VPN for watching French TV
There are a few considerations that you should make before subscribing to a VPN for this purpose. The first one is that the VPN you subscribe to must have a server in France. Without a French server, then the VPN is not useful for our purpose.
The other thing to consider is the speeds offered. A VPN is expected to reduce your connectivity speeds, but a good streaming VPN should offer ultra-fast servers that let you stream French TV in HD.
One VPN that fulfills are these conditions comfortably is Shellfire VPN. Apart from its France servers, the VPN also has servers in 34 other countries on 6 continents. This is ideal if you also need to connect to other countries like the US, Australia, etc, and unblock content.
Connecting your Stream to TV
To stream online content on TV, you need a Smart TV or a TV and a Smart Box. You can also cast your PC, Mac, iOS or Android device to the TV if you have a device like Chromecast.
However, if you normally stream using your Smart TV, then you will have some trouble installing the VPN. This is because most smart TVs do not have VPN capability. The same applies to some streaming devices and Smart Boxes.
Once again, Shellfire comes in handy here. Apart from Shellfire VPN, the provider also has the Shellfire Box. Shellfire Box is a device that connects all your devices, even those that normally are unable to connect to VPN, such as most Smart TVs and gaming consoles.
The Box gives out an already secured network, and therefore all devices that you connect to the network will be spoofed and appear as if you are connecting from France.
This way, you can enjoy streaming French TV from the UK on your TV!