Plex is among the most popular media servers in 2020 and its new ad-free streaming service increased its popularity even more. With Plex, you can watch your favorite TV Shows, Series, and Movies on laptops, smartphones, and other devices. The popularity of Plex and Stremio is because of the ease of use since Kodi is a bit complex in this regard.
We shouldn't underestimate Kodi, and Plex has taken that to heart by implementing improvements on a daily basis. One frequent question about this platform is how to enable subtitles on Plex to watch movies and series with subtitles. You can configure Plex subtitles with some basic settings.
Before going into the details of enabling subtitles on Plex, it is important to talk about privacy and anonymity while using streaming apps.
Best VPN for Streaming Platforms
For optimal performance of streaming apps as well as for privacy reasons, you must install a VPN service. Platforms such as Kodi, Stremio, and Plex use different media servers and plugins to stream media from the internet. In some cases, the plugins and add-ons use torrent servers and other vulnerable sources notorious for copyright violations. In addition, some movies and TV shows are regionally restricted. You can't play them in particular regions without a VPN. A premium VPN like Shellfire VPN can bypass these restrictions to let you stream almost anything from anywhere without leaving a track of your online activities.
With the increasing number of streaming apps, policymakers continue to make life tough for cord-cutters. Government agencies extract data from ISPs in order to monitor the activities and check the browsing history of internet users. This is happening in almost every country and it puts your personal information and confidential data at risk. You can avoid this consistent monitoring by installing a reliable premium VPN service with servers around the world.
Not only streaming apps but also the VPN services are increasing in number. But it must not distract you and lead you into making the wrong selection. Companies are offering free VPNs but the performance of these services isn't good. First, they limit data usage. Secondly, you don't have access to premium servers with Zero-Logging. In addition, these free VPNs don't have high-level encryption.
As long as premium VPNs are concerned, I like Shellfire VPN for its features at competitive prices. Shellfire Premium plans offer high-level end-to-end encryption. This company has servers in 37 countries which include India, the US, and the UK. Shellfire Basic Plan has limited features with access to less number of servers. It offers an OpenVPN service. Instead, I prefer Shellfire premium plans since they serve with Zero-Log Policy, high-end encryption, and PPT, and L2TP/IPSec protocols. Shellfire VPN is compatible with iOS, Android, Linux, Mac OS X, Windows, and DDR-WRT.
Steps to Enable Plex Subtitles for Movies, Series, and TV Shows
Launch Plex and go to Settings (top right corner)
Click Player on the left menu to check audio and subtitle settings on Plex. Here you can configure the placement, font size, and color of the subtitles.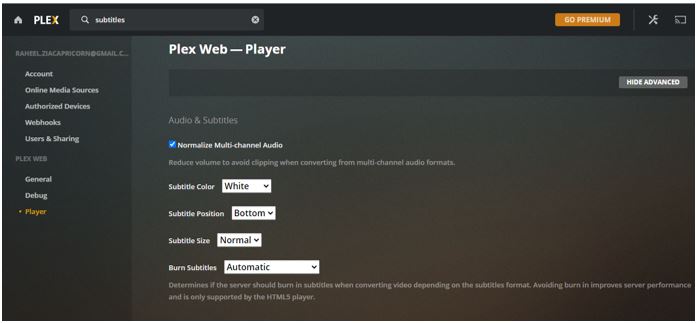 Once configured as per your preferences, click Account (Top-most option on the left menu)
Click the drop-down arrow under the LANGUAGE option to select your preferred language
Hit SAVE CHANGES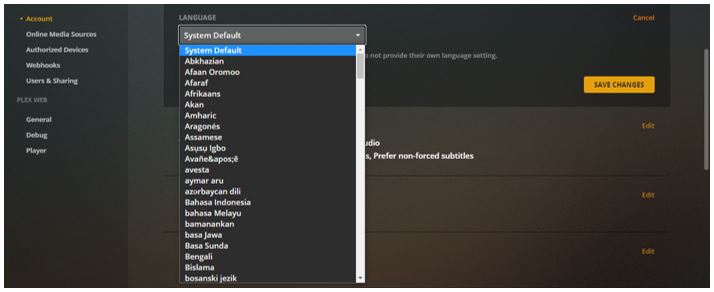 Scroll down to check AUDIO & SUBTITLE SETTINGS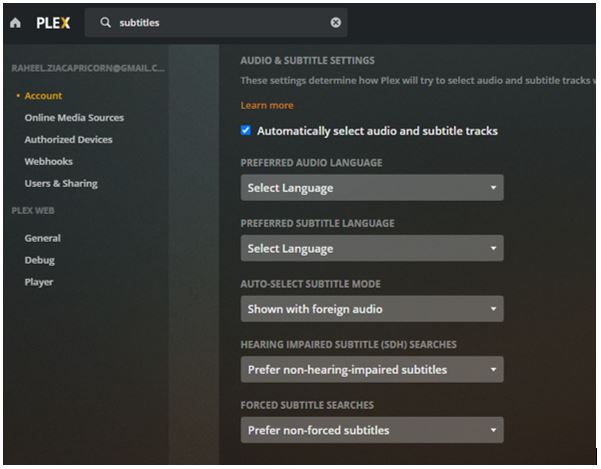 Forced Subtitles
Here you see different subtitle settings on Plex including Forced Subtitles.

Forcing a subtitle means that the embedded subtitle track (if available) can be configured in four different ways.
Non-forced subtitles mean that the embedded subtitle track will not be used if there is an audio track available in the preferred language (in Language Settings)
But if you select Shown with foreign audio under AUTO-SELECT SUBTITLE MODE then Plex will use Forced Subtitle even if the track in the preferred language is available.
Under the same settings, if you select Always enabled, Plex will treat Forced subtitles as normal.

Plex Subtitle and Audio Track Languages
It is important to configure subtitle settings in a way that it makes easier for Plex to intelligently select the most suitable language. Files come with embedded tracks and the system selects the most appropriate track language as per your preferences. This is why settings the right language (for yourself) is important. You can use MKV files and mkvtoolnix for subtitle track if you have not set the language preferences.
Please note that if no language is set for a particular track, Plex identifies it as "unknown". In simple words, Plex will treat such track as if it doesn't match the user's preferred language settings.
It is important to note that the file name of the external subtitles must be entered correctly with the language code.
Preferences for OpenSubtitles.org Source Settings on Plex
The OpenSubtitles Source is for TV Show and Movie Agents. Language preferences are important for OpenSubtitle.org settings. Following are the steps for Plex OpenSubtitles Settings:
Open Plex Web App
Go to Settings and select Plex Media Server
Hit Agents
For Movies, select Plex Movie and for TV Shows select THE TVDB
Check (Enable) OpenSubtitles.org
Hit the Gear to enter Settings
Select the preferred languages (you can select 2 languages if you want)
Conclusion
A couple of years back, it was a tough ask to configure and even enable subtitles on Plex. Over time, Plex has improved its layout and interface making it subtitle settings on Plex fairly easy. Don't forget anonymous and safe streaming by installing and running the Shellfire VPN service before using media write papers streaming platforms including Stremio, Plex, and Kodi.