Today, we are going to share the latest working method to install the FEN Kodi Addon. Everyone loves a quick and easy way to watch their favorite movies and TV shows online, without having to download them first. But unfortunately, online streaming can be a hassle these days, as sometimes streaming links do not work and if they do, the quality is not up to the mark.
However, Kodi add-ons work in a different way to provide you with smooth and HD video streaming, whenever you want! One of these great Kodi add-ons is FEN, which will provide you with a variety of online media to stream and watch. If you want to try FEN out, make sure you follow the steps outlined to install the FEN addon, quickly and easily.
Features of FEN Kodi Addon
FEN has countless amazing features that you can benefit from. The add-on works to provide you with all sorts of online media content from different sources and to make it easier for you to select what to watch, it has an organized list of media content categorized into Movies, Search, TV Shows, Favorites, etc. The Add-on has a unique, yet simple and easy user-interface to make sure all their users can get used to it in no time!
Kodi users are familiar with the way Kodi works. It scrapes media content from other sites on the internet and brings it to you, all in one place. The FEN addon uses scrapers called Tiki Scrapers. These scrapers provide users with different streaming links than those provided by other Kodi addons. Also, these scrapers do not depend on IMDB. FEN is a video addon in the Tikipeter's repository, which is a well-known repository to those who use Kodi regularly.
Advantages of Installing FEN Kodi Add-on
HD quality video links. Fast and smooth with zero lag.
Uses Tiki Scrapers that help bring different streaming links
Easy-to-use interface
Various categories and organized lists to pick and choose from
Works with Amazon FireTV and Fire Stick as well as Android TV
Disadvantages of FEN Kodi Add-on
Since it is a third-party add-on, you might need to use a VPN to protect yourself.
A few of the links might not work, but most of them work smoothly.
Install the Best VPN for Kodi in 2020
Those of you who use the internet regularly, you might have read a lot of deal about VPNs, virtual private network. VPNs act as a tunnel between you and the website you are browsing, to guard you against viruses, malware, identity thefts, and so much more that you could be exposed to. After doing our homework, we have concluded that Shellfire VPN is a great VPN to use for security and protection from threats and viruses.
Shellfire VPN is compatible with all operating systems including Mac, iOS, Windows, Android, etc. Most VPNs out there keep track of all your activity and browsing history on their servers, which could turn out to be extremely risky because this information can help anyone to track you down. However, Shellfire VPN uses a no-logging system to make sure that none of your information is saved onto their servers.
Another benefit of Shellfire VPN is the servers that they make available around the world. Having these servers is critical in ensuring that you can access content that has been geoblocked based on location. Luckily, using a server in a country where the content is available is a quick and easy way to bypass these restrictions.
Shellfire VPN provides its customers with a free trial and 7-day money-back guarantee, in case you are not fully satisfied with their services. Make sure you use a VPN to protect yourself whenever you're browsing the internet.
Steps to Install FEN Kodi Addon
Third-party add-ons can be installed on Kodi with just a few extra and easy steps. To do this you will need to enable Kodi to download repository files from unknown sources.
Launch Kodi App and go to the settings option. This is the one with the cogwheel icon and then select System option
Now, hover your cursor over Add-ons and then enable the option that says 'Unknown Sources' and go back to the System interface again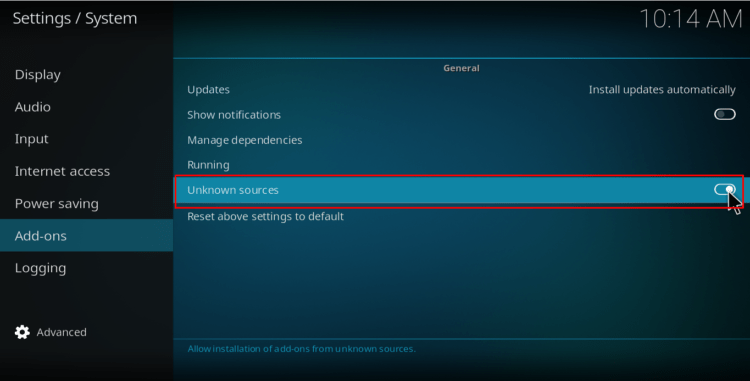 Go back to the main menu and then select File Manager
Hit Add Source and then select <None>
It will ask you to type the URL to the repo. Enter the following link exactly as provided by typing it in or copying/pasting – https://tikipeter.github.io/
Then the system will ask you to name your media source. You can name it whatever you want, like tikipeter or FEN so that you know what you are looking for.
Hit the OK button and then go back to the system interface and go to the Add-ons icon.
Now choose the name you typed in the media source i.e. Tikipeter and then press Install from zip file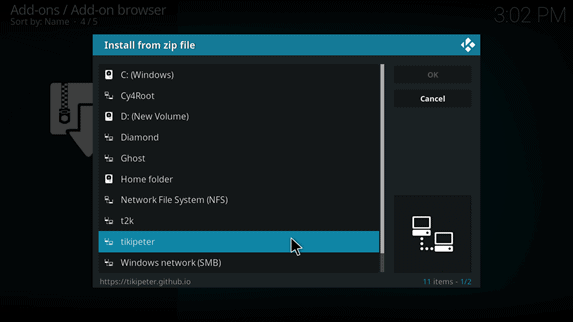 Select repository.tikipeter-0.0.5.zip and hit OK
You will get a notification saying Stream Army Repo add-on installed
Now go to Install from repository
Select Tikipeter's Repository > Go to video add-ons and then from there, select FEN
Press Install
After installing Fen Kod addon the system will show a confirmation notification
Finally, navigate back to the Kodi Home Screen.
Go to Add-ons and launch FEN
Now you are ready to go watch your favorite movies and TV shows!
Conclusion
Installing FEN Kodi addon is a simple undertaking but you need to consider privacy first. Install Shellfire VPN and run it before you install FEN Kodi addon. People who like streaming media online know how hard it can be to find good websites or links that stream smoothly and offer high-quality video.
This is why we have done our research and found out that FEN is, in fact, one of the great Kodi add-ons out there that provide smooth and high-quality streaming links to all its users. The add-on has well-organized lists to make sure you can easily browse through them and find what you are looking for.
The lists contain several different online media lists and is categorized into folders such as Movies, TV Shows, Favorites, Search, and much, much more! We hope you find the installation steps very easy to follow. If you want an amazing streaming experience with your family and friends on weekends or any time of the week, FEN add-on is one of the best choices out there!