What is Grease Lightning?
The Grease Lightning Kodi addon is an alternative to the many movie add-ons that Kodi can pair with. Grease Lightning, another invention from the incredible Movie Theater Butter add-on creators, is a topnotch addon charged with several high-quality streams.
The Grease Lightning addon also includes integration with the last streaming features such as Trakt.tv and Real-Debrid. This addon is known for its auto-play feature and its ability to stream shows without any interruptions. The addon has lots of different services available and you can use it to watch:
movies and television shows,
documentaries,
podcasts,
fitness content, and
even music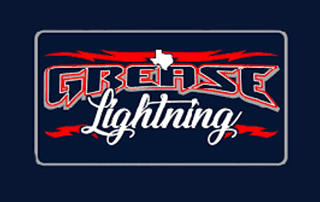 The addon also gives access to shows and movies from streaming services such as HBO, Netflix, and Hulu. There is a section available in the app called "Movies Collection" which streams 50's to 90's movies. Grease Lightning even offers an option to "clear all cache", which will solve any issues or problems with slow streaming and buffering videos. Of course, this is a third party addon and whenever you use one of them, we recommend that you put a VPN in place.
What is a VPN and How Does it Work?
A VPN or virtual private network is the safest way to stream, search and use the internet without restrictions. Basically, a VPN creates an encrypted connection between the device (your computer, cellphone, tablet, etc.) and the server. A VPN is practically a "protected tunnel" in which you can access everything online without any restrictions.
Why are VPN's so Important?
They give you online anonymity and include added security for your device and online actions. This is especially useful when – for instance – you are doing your online banking on a public network. When using public WiFi, hackers are usually able to gain access to information that is being used on a specific device, such as banking information and passwords.
Now you might think that this doesn't matter when it comes to streaming, but consider that you can stream from your smartphone and you'll realize how important a VPN is.
VPN's can make sure that everything you do on your device and online is not traceable to your physical location, using the devices IP address (a locator using a string of numbers attached to the device). Remember, every device that connects to the internet and goes online, has a unique IP address. Using a VPN hides your true location and IP address, which can then be replaced with the settings on the VPN server.
What are the Benefits of Using a VPN?
There are many benefits to using a VPN, including the facts that you are able to search on the internet with an extra level of security, you can prevent your internet service provider (ISP), and governments from spying on your online activities, and you can unblock websites and access certain content that is restricted to certain areas (such as American television, UK websites, etc.).
This also includes geo-restrictions, which is restricted content based on the country you are in. For example, certain television series are unavailable to Canadian Netflix users but are available to US Netflix users. A VPN is the perfect way to safely surf the internet, use Kodi, and overall protect your device.
Choosing the Right VPN for your Service
There are many different VPN providers online and in fact, some of them are even free. While the choice might seem obvious, I'd urge you to stay away from free VPNs. You see, when it comes to streaming content online, you want access to fast servers and the free ones are anything but! After all, you get what you pay for right?
The VPN I always use is Shellfire VPN. Aside from the fact that the servers are always quick, they are located all over the world which helps when I'm trying to bypass geo-restrictions. I can and do enjoy UK content regularly while living in North America.
Of course, that's not the only advantage to Shellfire VPN. You see while many commercial VPNs have clients that you can install on different operating systems, Shellfire VPN goes even further. They sell a little device called the Shellfire Box which you can get with a year's free access to the service. Once you've got this device in your home you can quickly and easily create another protected network. You can then connect devices – like Smart TVs – directly to this network so that they can take advantage of VPN services also! It's genius and it works!
How do I Install Grease Lightning?
Installing Grease Lightning into Kodi takes a few steps. You must first make sure that your VPN is turned on so that you are safe during the streaming process, and the use of the addon and apps. Grease Lightning does not own any of the content offered to users, so it is important that your VPN is turned on.
Allowing Unknown Sources:
The first step to Installing Grease Lightning is allowing unknown sources on Kodi.
From the Kodi home screen, you should see multiple options such as "Movies", "Tv shows", "Music", "Music Videos", etc.
Click Addons from this menu. Then click the settings button on the top left side of the screen and under addons, enable "Unknown sources." After this step, you should be able to go ahead and install the addon Grease Lightning for Kodi.
Installing Grease Lightning
Back at the Kodi home screen go into the option "settings". Select "File Manager" > "Add-Source" > "None". On this page, type the following URL http://repo.rubyjewelwizard.com on the window that shows up. Then name it rubyjewels and click "OK".
After this step, go back to the Kodi home screen. Click the "add-ons" menu from the left of the screen and open the package installer, you can do this by clicking the open box icon at the top of the menu bar on the screen. Select the option to "Install from Zip File" > rubyjewels from the drop-down menu and select "INSTALL_DIAMOND_REPO" > "Diamond-Wizard-Repo-x.x.x.zip". Wait for the installation to finish (you will receive a notification).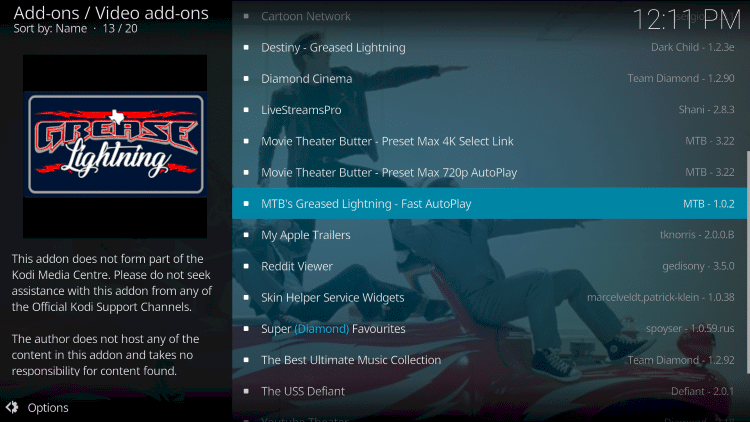 After Diamond Build Repo has been installed, click "Install from the repository" from the same page. Choose "Diamond Build Repo". Select the option of "Video Add-ons" > "MTB's Greased Lightning – Fast Autoplay". Finally, click "Install" and press "OK", if there are any prompts. There you have the Grease Lightning Kodi Add-on.
VPN and Grease Lightning
Overall, in order to use the Kodi add-on "Grease Lightning", you must have a VPN like Shellfire VPN for protection. A VPN can give you safety throughout the streaming through Grease Lightning, or any Kodi addon.
"Grease Lightning" is a Kodi add-on that does not own it's provided content, which means it is at risk for copyrights. By using a VPN, you can avoid any and all tracking to your device during the time you are streaming.