Hi guys, get ready to try another entertaining Movie and TV Show addon! This time, the addon comes from the GrindHouse repository. This repo has some promising addons including Odds N' Ends. Kratos Repbon uses open scrapers to pull streaming sources.
This is a community addon so a VPN like Shellfire VPN is strongly recommended. Before beginning with the steps to install Kratos Reborn Kodi addon, let's have an overview of its features!
Features of Kratos Reborn Kodi Addon
Repository: Grindhouse
Repo URL: http://grindhousekodi.tk/repo
Content Type: Movies, TV Shows, Documentaries
Kratos Reborn is a third-party addon from a community repository. In simple words, it is not an official Kodi addon so you must make sure to install the VPN before installing Kratos Reborn Addon. It is a Movie / TV Show addon with a satisfying content library. The content is neatly organized in multiple categories including Genre, Year, Rating, Popular, In Cinema, etc.
What's Good
An extensive content library of movies, TV shows, and documentaries
Neatly organized collections
Free streaming (doesn't ask for premium subscriptions)
What's Not Good
Third-party addon with no screening of copyrighted content
Many scrapers are dead or extremely slow
Important Kodi Update
Kodi's release of 19 Matrix has troubled many popular add-ons since it is built on Python 3. If you want to continue enjoying your favorite Kodi addons, you can still restore Kodi 18.
Safe Anonymous Streaming with Shellfire VPN
Not only speed but privacy is highly important when you are streaming on any platform including Kodi. Most popular Kodi addons come from third-party developers. They often rely on free scrapers which access risky and vulnerable servers where your personal information stays at risk.
Shellfire VPN is my favorite VPN service for various reasons. It now has 250,000 users and the number continues to increase. Its servers are operational in 37 countries covering 6 continents. Shellfire is a German-based VPN service and it is compatible with Android, iOS, and Windows Operating Systems.
· Speed
Shellfire VPN is one of the best options you can use today to get rid of speed throttling and it offers unlimited speed with 256k encryption. During the COVID-19 spread, the pressure on the bandwidth has significantly increased in most regions. However, VPN servers enable your internet connection to escape the bandwidth restrictions imposed by the local Internet Service Providers. Hence you can optimize the streaming speed by using the VPN service.
· Anonymity and Unblocking Censorship
These days, copyright violations are dealt with in particular and Kodi or the addon developers don't take responsibility in the case of violation. However, you can easily stream anonymously with Shellfire VPN. Moreover, different regions offer different content so you often face censorship. With its servers in 37 countries (US and UK included), Shellfire VPN lets you bypass censorship by selecting the most suitable server. Thanks to its Zero-Log policy, servers of Shellfire VPN do not store your personal information or browsing history.
· Security
Hackers mostly make successful attempts through public networks, e.g., WiFi connections at crowded places. With its 256kb end-to-end encryption, you can securely use the internet even via public WiFi. The encryption secures your activities and data from ISPs, agencies, and hackers.
Steps to Install Kratos Reborn Kodi Addon in 2021
This step-by-step method to install Kratos Reborn Kodi addon works on almost all Kodi-compatible devices including NVIDIA Shield, Laptop, PC, FireStick, and Smart TV Boxes.
GrindHouse is a third-party repository. You must go through Kodi settings to allow downloading files from external sources.
Enable Downloading Files from Unknown Sources
Start Kodi
Hit the Cogwheel (Settings)
Go to System
Move the cursor to Add-ons
Use toggle key to Enable Unknown sources

Download Repo Files for Grindhouse Repository
Come back to System and select the Folder (File Manager)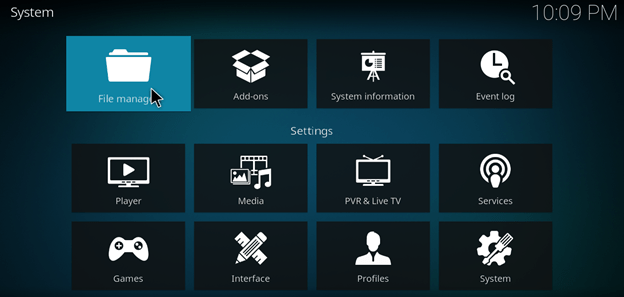 Double Click <None>
The text field will allow you to type or paste http://grindhousekodi.tk/repo
Hit OK to confirm
Provide the media source name of your choice – Grind (remember it since you will locate the repo using this name)
Save settings by selecting OK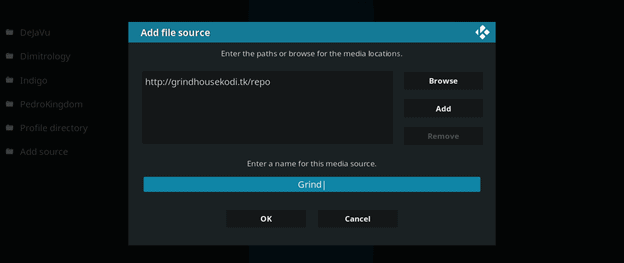 Install Repository from the .zip File
You need to return to System one last time
Select the package installer (Add-ons)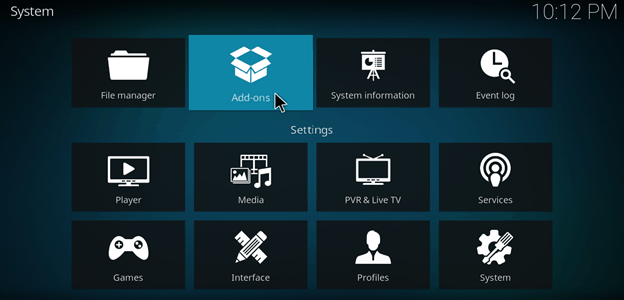 Go to Install from zip file
Locate Grind (Media source name) and select
Select the .zip repo file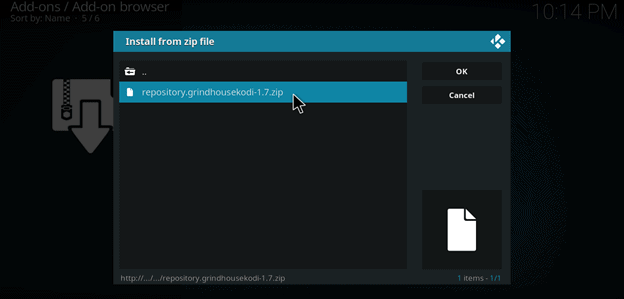 The system will download the .zip files in a few seconds and you will see a confirmation notification
Install Kratos Reborn Addon from Grindhouse Repository
Once the .zip file is downloaded, stay at the same screen and select install from repository
Look for Grindhouse Repository and select
Go to Video add-ons
Locate and select Kratos Reborn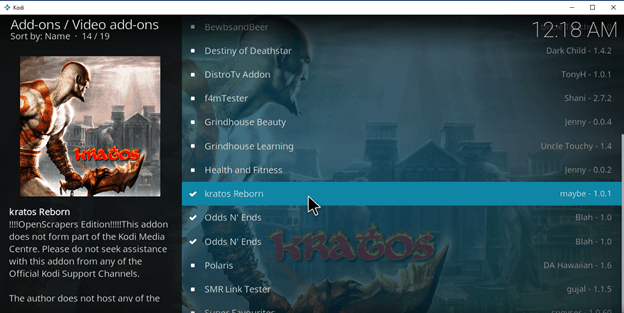 Press Install
Wait until you see the installation confirmation notification
Launch Kratos Reborn Kodi Addon
After Kratos Reborn addon is successfully installed, you can locate it in My Add-ons (Home Screen) or go to Addons and select Video add-ons on the navigation bar of the Home Screen
Select Kratos Reborn
Click Open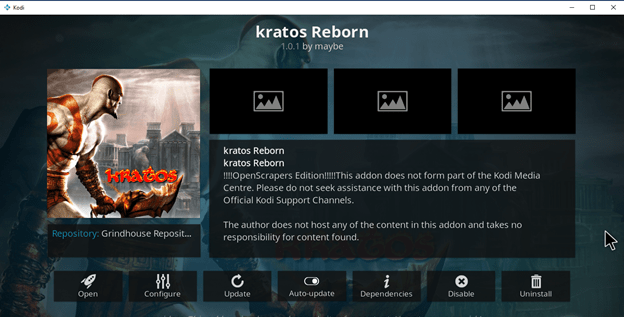 Below is the main interface of the Kratos Reborn addon. It offers Movies, TV Shows, and Documentaries.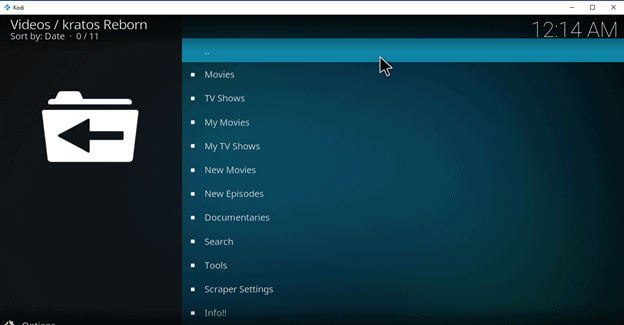 Main collections, Movies, TV Shows, and Documentaries are well-categorized into popular determinants including Genre, Year, Popular, and Ratings, etc.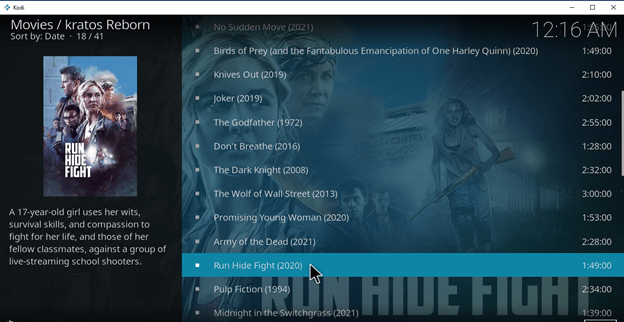 Streaming quality depends on the available scrapers. Most of the titles will return 1080p and 720p streaming sources. However, I've found that many sources are either dead or extremely slow. This is not a one-click addon. You'll have to select the title and wait for scrapers to upload. Once done, you will have to select the source from options based on video quality.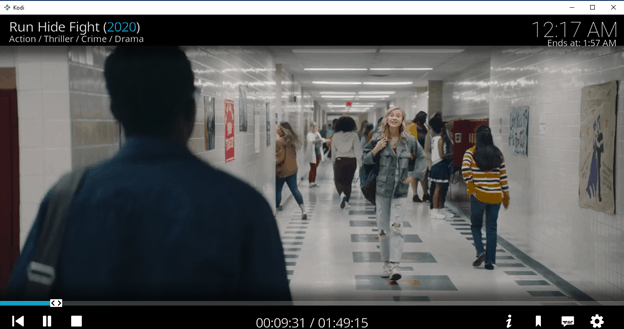 Conclusion
I can confidently say that you will not regret installing Kratos Reborn Kodi addon. Having said this, I don't call it an exceptional addon since its streaming quality is average. It is ideal for those who just enjoy watching underrated movies, feel the theme, and focus more on the plot instead of technicalities of video quality and so-called precisions. This addon brings many interesting movies, TV shows, and documentaries you might have not even heard of.
Socre: 6.5 / 10