If you want convenient access to live TV shows that run all across the globe for free then you would thoroughly enjoy the amazing free IPTV service, Mobdro. I am going to show you the latest working method to install Mobdro APK on Firestick and Fire TV in 2020.
Mobdro for Android Devices
If you have an Android device you can use Live NetTV which works really well, but Mobdro is definitely a good alternative also. Mobdro works well on FireStick devices and several Android devices like Fite TV. You can easily watch hundreds of Live TV channels of all sorts from all across the world.  It usually seems too good to be true as Mobdro offers features that are only found in Premium Cable Packages.
After installing Mobdro on Firestick or Fire TV you can access numerous Live TV channels. However, you must keep your identity protected by using a reliable VPN. You must be very cautious about keeping IP addresses secured so that you do not get into any legal troubles and all your personal information remains confidential.
Best VPN for Safe Streaming on Firestick and Fire TV
No doubt, the competition is tough these days since more VPN service providers have introduced attractive plans and features over the past few years. Streaming platforms, on the other hand, are trying their best to block access to their servers for the connections which seem to be using VPNs. This factor makes it important to look for a VPN service that is reliable, effective, and consistent when it comes to bypassing regional restrictions and media content and TV channels.
Shellfire is a VPN service I've been using regularly in 2020. The company is based in Germany and has its servers in almost 40 countries covering India, the United Kingdom, the United States, Germany, and more. Shellfire uses high-end encryption methods to encrypt traffic and data. Reliable servers in different countries let you unblock various streaming services operating in popular regions.
Not only that Shellfire effectively hides the identity of the actual user, it also maintains secrecy of the browsing history and online activities. Like most reliable VPN services, Shellfire also complies with the Zero-Log policy to ensure 100% privacy.
Shellfire VPN uses PPT and L2TP/IPSec protocols for optimal results. The VPN is compatible with multiple operating systems including Android, Linux, Windows, iOS, Mac OS X, and DDR-WRT. This OS compatibility lets you install and run Shellfire VPN on multiple devices including FireStick, Fire TV, PC, and Tablets, etc.
Steps to Install Mobdro APK on FireStick and Fire TV
Now, let's review the guidelines on how you can install Mobdro APK on FireStick and Fire TV on your devices.
Step 1: On your Home Screen the Main Menu option will appear. Select it and then go to the Settings.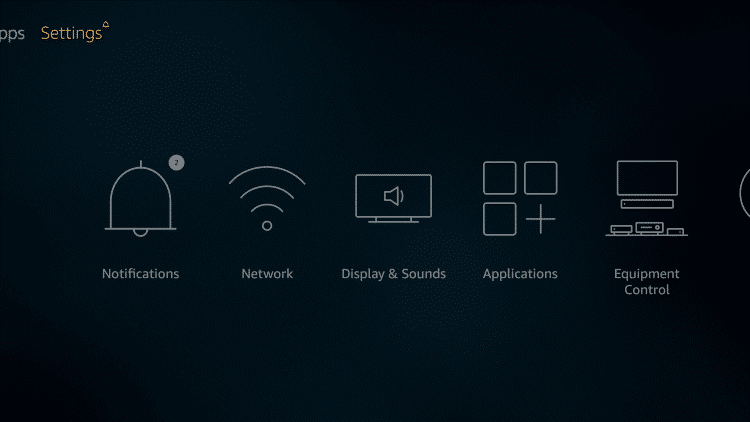 Step 2: Search the Settings and then choose My Fire TV.
Step 3: Now several options will appear and you have to choose Developer Options from it.
Step 4: Select Apps from Unknown Sources option now.
Step 5: Choose the Turn On option to enable it.
Step 6: Now go back to the Home and move your cursor over to Search.
Step 7: Now type the word Downloader.
Step 8: From all the options that appear, choose the Downloader app.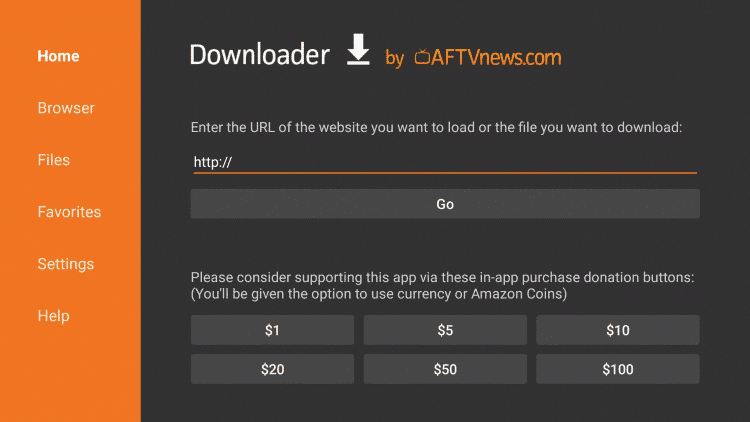 Step 9: Now click Download so that the app could be downloaded on your device.
Step 10: After the app has downloaded, an option Open will appear. Choose it.
Step 11: Your system will request permission so that the application can access your media, photos, and other files on your device. Grant the permission by selecting Allow.
Step 12: Read the Quick Start Guide and then select OK.
Step 13: You will be asked to type in the website you want to load. So, type in the URL: bit.ly/mobdro-apk-firetv and then select Go.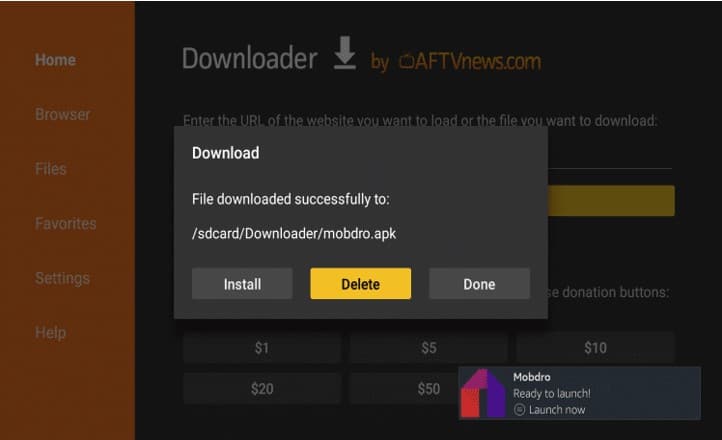 Step 14: Wait till the downloading is finished.
Step 15: Once it is downloaded, select Install.
Step 16: After the application is installed, select the option Done.
Step 17: You will be directed back to the Downloader App, here select the Delete option.
Step 18: The system will ask for confirmation regarding deletion. Just select Delete again to confirm.
Step 19: Now on the remote, locate the Home Button and press and hold it. Then from the options that are displayed, select Apps.
Step 20: Move onto the Mobdro App and then find the Options button on the remote represented with 3 horizontal lines. From the list of options that appear, select Move to Front.
Step 21: Drag Mobdro and bring it to the Top.
Step 22: Now you have to Launch the Mobdro App.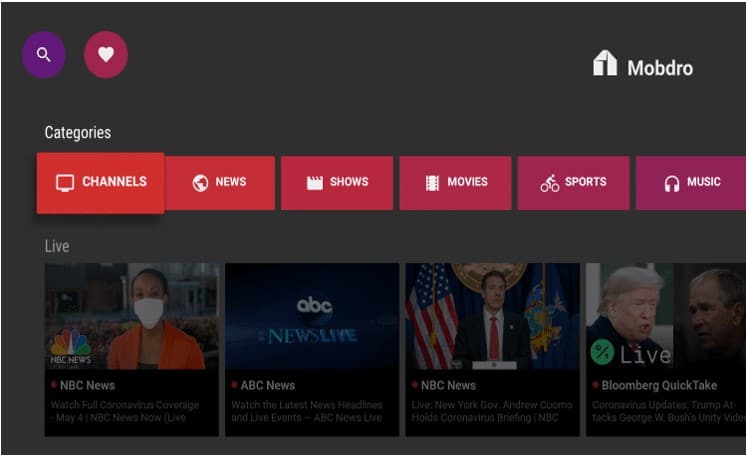 Step 23: Once you open it, the application will ask if you have read the license agreement or not. Choose the Agree option to proceed forward.
Step 24: Next select Allow to give your consent so that Mobdro can gain access to your media and files.
Step 25: Now Mobdro will activate and you will be free to choose whichever channel you want to stream.
Conclusion:
You will notice that it is very easy to install the Mobdro APK on FireStick and Fire TV. This app is highly user-friendly so you would not have any trouble in operating it and launching it. It offers an amazing experience of free steaming so that you can enjoy all your favorite Live Tv shows from all over the world.
This is a budget-friendly solution to all your streaming troubles! That being said, don't take this free app for granted because careless use of streaming apps could trigger trouble and you might receive a DMCA notice. Use a reliable and fast VPN for safe streaming on Firestick and Fire TV.