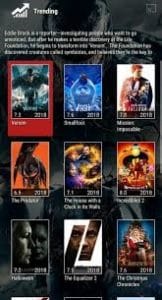 Morph TV is an application that provides media content like many other streaming applications out there. The Morph TV Android app is an add-on and is used to link you to a variety of media streaming from a variety of sources. The two sections, movies, and TV contain further subcategories like trending, most popular etc. One of the many wonderful features of this application is its integration with Chromecast. This makes it really easy to send the stream to a big screen TV. It does not host media content on its own, however, it takes the data from public sources on the internet to display to its users since it is a multi-source application. Let's take a look at more features of the new duplicate of the famous Morpheus TV and how it can be installed on Firestick!
Get a VPN Before You Use Morph TV
VPN, Virtual Private Networks, protect you from outside threats, identity theft and so much more while you are browsing on the internet. Shellfire VPN is a commercial VPN and is one of your best protections when it comes to streaming content online. Shellfire VPN has mobile applications for iOS and Android devices, and with the Shellfire Box, it even works on Smart TVs.
The reason that VPNs like Shellfire VPN are so important when it comes to streaming content is actually really simple. Once upon a time, there was a lovely little law called net neutrality. This law provided protection to the end user (you and me) and helped ensure that your activities online were private and secure. That law was changed though and now everything you do online is being tracked by your ISP. This means if they get pressured, they can and will hand over all of your browsing activities.
VPNs protect you from this by creating a secure and encrypted tunnel between your device and the VPN server. Anything you browse while connected to a VPN is completely private and cannot be tracked or monitored. With streaming content this is especially important as at times, the streams being presented might be copyrighted and depending on where you are in the world, this could be an issue.
Talking about where you are in the world brings up another huge selling point to VPNs like Shellfire VPN. You might have received an error message something like the following while browsing online:
The content you are trying to access is not available in your country or region
Does this seem at all familiar? If so that is called a georestriction and it occurs when content providers restrict their content. It could be for a variety of reasons really – for example, Star Trek Discovery is not available on Netflix in the USA as CBS wants to have their own pay channel which people would need to subscribe to, to access the show. Everywhere else in the world though, you can access the show on Netflix! This is where VPNs come into play again. By logging into a server in a country where the content is available, you are able to bypass these restrictions without having to fork out for a plane ticket! 
Installing Morph TV on Firestick
This section will help you download and install Morph TV on Firestick in a few and easy steps!
Step#1: Open Settings – Hover over the 'Settings' option on the top left corner.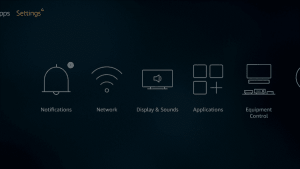 Step#2: Click the Developer option and then click 'Apps from unknown sources'
Step#3: Go back to home screen and hover over the search icon on the top left corner of the screen and then type in "Downloader".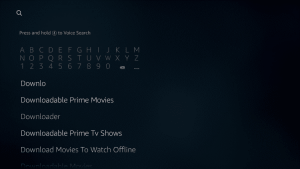 Step#4: Go into the 'Downloader', click download and then open it once it has downloaded. Now you will see a notification for permissions for accessing media on your device. Click 'allow' and then click 'ok' in the window.
Step#5: Now on your remote, find the 'ok' button, and click it. See the image below. The downloader will show you a search bar to search for your desired URL.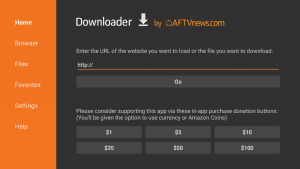 Step#6: Now you have to type in troypoint.com/morph and tap 'Go' to find the Morph TV app to install it.
Once it is installed, click done and go back to the homepage to launch the Morph TV APK app and enjoy watching all your favourite media content like movies, TV shows, series and what not. We hope these steps helped. Enjoy the endless entertainment!