Wandering around to find the perfect Kodi add-on is not the ideal way to spend your time. What if we tell you that there is an add-on that streams all kinds of content in one place? Numbers is an add-on that is just perfect for movies, tv shows, and everything else. It is easy to find and install on your android devices and Kodi. Besides, the recent version of the add-on has a funky look and feel to it. So, get your hands on this add-on for a much-enhanced experience of your favorite shows and movies.
Numbers is a Cellar Door Repository add-on that can be found easily with steps discussed below. Something that makes it stand out from any other add-on is the categorization. It has different sections for movies, tv shows, etc. These sections are further divided into subcategories as well, where you can filter your results depending on genre and year. A wide variety of content options and excellent video quality is the basic feature of the add-on.
Even though this third party add-on is said to be safe for all devices, you need to protect yourself whenever you install and use something online. Reading reviews and doing background checks on the add-on might help to some extent. But, even after so many precautions, trouble can still knock your door. So, what is the ultimate solution? Consider Installing a VPN on your devices to ensure 100% safety of your internet activities and confidential information. Having a VPN is important here is why you need it on your device right away:
Why You Need A VPN?
A VPN stands for a virtual private network that helps in establishing secure connections over various servers on the internet. We know for a fact that every website records some or other information about us for security purposes. But, most of us are not really comfortable sharing all our data to strangers. So, a VPN like Shellfire VPN comes into the picture like a savior here. In simple language, you can think of a VPN as an invisible opaque layer that hides all your internet activities. It comes with various benefits and all of which are discussed below in this article.
Besides, a VPN is available for all your devices, be it a smartphone, PC, or laptops. Even though this software was initially created mainly for secure business transactions, over time, it became a necessity for all internet users. Without any further ado, let's discuss various benefits of having a VPN on your device.
Security
Staying secure over the internet is really important. Hackers have a way with the server, and they can peep into your internet activities quite easily. However, it becomes impossible when you get a VPN installed in your device. VPNs like Shellfire VPN create a secure, virtual tunnel that cannot be pierced keeping your activities online private and secure.
Stay Anonymous
Hide your location, IP address, etc., from all prying eyes by installing VPN on your devices. A VPN gives you the power of anonymity, enjoys it every time you access the internet. Let's say not just anonymity; you can even fake your locations at times which helps you access information and streams that would otherwise be restricted as we'll discuss in more detail.
Location Restrictions
Let no boundary stop you from enjoying great deals and buy things for cheap. Certain great offers are country-specific, and you need a VPN like Shellfire VPN on your device to not miss out on such deals. A VPN helps you get past all kinds of geo-restrictions and enjoy the content, deals, etc. that are not available in your country. Shellfire VPN has servers all over the world that you can use to access information that would otherwise be private.
Finding the perfect VPN is nothing like climbing Mount Everest, you just need to look for specific key points. A VPN should be able to satisfy the above needs; otherwise, there's no point in filling up your device memory. Once you've got the right VPN installed, you will be able to enjoy not only this addon, but many others that we've already discussed on this site.
Let's now discuss the steps you can follow to install numbers on your KODI.
How To Install Numbers on Your Kodi?
Here's the step by step guide to help you install Numbers on your Kodi successfully:
Start by opening Kodi on whatever device you are using and look for an option named system settings. A variety of options will open up right after you click the setting option from the menu.
Now, choose the file manager from the menu displayed on your screen and click on add source from the next window.
You will see a box with [None] written on it, erase that, and enter – http://cellardoortv.com/repo/ in the box, click ok. Write 'Cellar Door' in the box that appears next and press 'enter' or click ok later.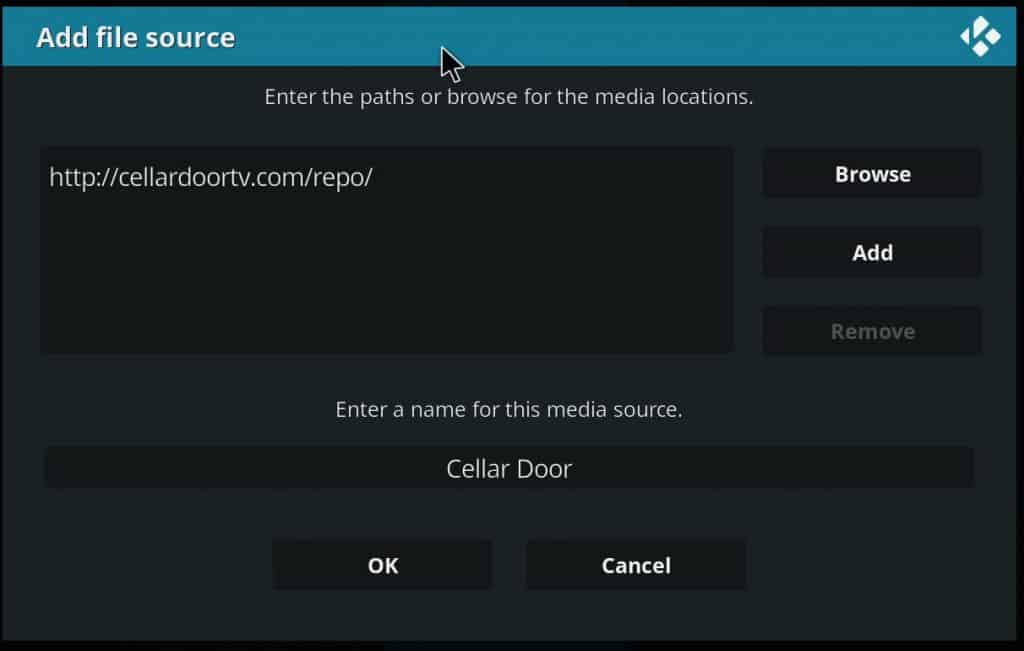 You will now have to go back to the main menu and select the Add-on option. From the top left corner of the screen, select the Add-on Installer package. You will see a couple of options on the screen, choose the one that says install zip file.
You will see the Cellar Door option on the screen, on selecting this option, you will see a zip file. Select the zip file and install the latest version of the file.
A box will pop up with a 'repository installed' notification after the installation is complete.
Now, choose 'Install from Repository' option and select the repo you have just installed. You will see Video Add-on options when you open Scroll down to find Numbers in the repo, click on it when you see it.
Open the Numbers file and click the install button.
The link mentioned for the zip file is really important and must be entered correctly. The entire procedure will only work if you enter the link correctly.
Pros and Cons of Numbers Add-on
Numbers is an excellent add-on for your Kodi. It will help you enjoy great quality content in one place without paying any money. However, security and privacy might be at risk sometimes due to its third party origin. So, if you do not have a VPN on your device, you must get one.
Conclusion
VPN is necessary even if you are normally surfing the web for utmost security. With so many VPN options available, choose the one that solves the basic purposes of it. Besides, Numbers is a fantastic add-on for all kinds of content, and it is reliable as well. But, a VPN like Shellfire VPN just helps in adding an extra layer of security and privacy. Make sure you give Numbers Kodi Addon a try and enjoy all of the excellent entertainment.