The Sport 365 Live add-on is one of the best sports add-ons for sporting fans on Kodi. This add-on allows you to enjoy unlimited hours of live sports from different platforms online. You can catch all the major sports competitions like:
One of the features that make Sport 365 Live add-on better than other Kodi add-ons is that it sources content from a different website. Instead of retrieving sports channels from Plexus, SportsDevil or Live Resolver, Sport 365 Live add-on pulls its streams from sport365.live where users can get various sports channels.
The Sport 365 Live add-on is very user-friendly and has an easy-to-use interface. Instead of displaying a playlist or a number of files, Sport 365 Live add-on lists all active streams in the home page where it is easy to access the channel of your choice. What's even more interesting is that the Sport 365 Live add-on displays up to 15 links for a single game. As long as you have a VPN in place, this is definitely the ideal sports add-on for any Kodi user.
Why You Need a VPN to Watch Sports 365 in 2019
A VPN service usually provides the user with a private network which protects personal data while browsing or streaming online on a public network. If you stream on Kodi regularly, you may need to install a VPN in order for your streaming experience to be much more enjoyable. A VPN is useful if you use an Android device or Smart TV also for your viewing pleasure.
A VPN service provides you with plenty of advantages as you stream, one of them is giving you online anonymity. With a VPN service, you won't have to worry about scammers and online snoopers trying to manipulate your online data. Even better you can avoid throttling by ISPs as you stream online. Internet service providers enjoy broad freedom in moderating user network which means that they can reduce or completely cut your internet connection if they observe that you are using a large amount of bandwidth.
Such interferences may cause buffering and make your streaming experience very uncomfortable. Install Shellfire VPN on your streaming device to enjoy online anonymity as you stream. Shellfire VPN also helps in avoiding detection when streaming copyrighted content. Some Kodi add-ons will direct you to copyrighted websites which may cause ISPs to block you from accessing these sites. A VPN helps you get away with viewing copyrighted content without penalties.
Shellfire VPN also helps you bypass geographical restrictions when trying to access content from different countries. Geo restrictions work by preventing unauthorized IP addresses from accessing a specific website. Shellfire VPN is able to bypass georestrictions by masking your original IP address with a more suitable IP address that will be accepted by the website. This means you can enjoy limitless content online after installing a VPN on your streaming device.
How to install Sport 365 Live add-on for Kodi in 2019
In 2019, the Sport 365 Live Kodi add-on can be downloaded from the Bugatsinho Repository. Since Kodi does not allow downloading of files from unknown sources by default, you will have to disable this option first before you can download the Sport 365 Live add-on. To enable downloads from unknown sources and install the add-on to your system, follow the instructions below.
Enable Downloads From Unknown Sources
Open Kodi and click on the cog icon at the top of the screen to go to System.
Click on 'System Settings' > 'Add-ons'.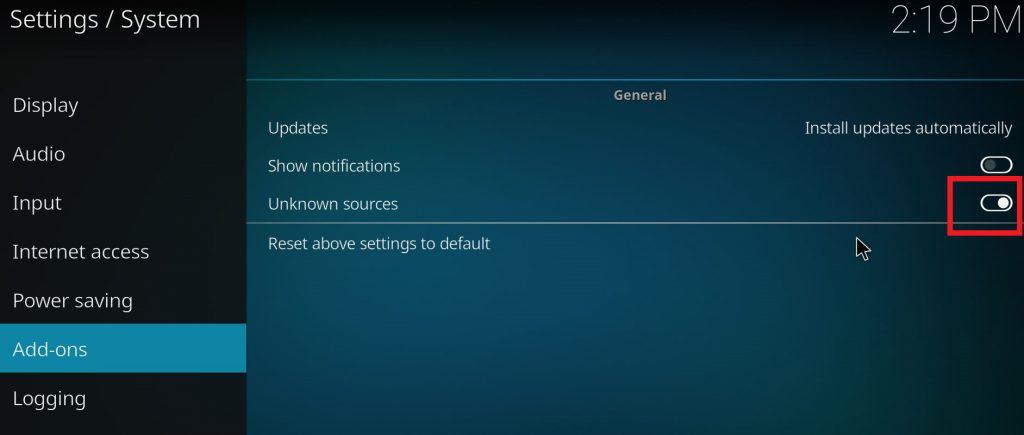 In the window that appears, toggle on the option under 'Unknown Sources'. A warning box will appear after switching. Click 'Yes' and you are good to go.
Installing the Sports 365 Add On – 2019 Update
Kodi add-ons often get taken offline or blocked which is yet one more reason to ensure that you have a VPN in place. The instructions for this add-on has been updated in August 2019 however to point to the correct repository so you will not have any problems.
Head back to the Kodi 'Home screen' and click on the 'Settings' icon at the top of the menu on the left of the display.
In the following window, click on 'File Manager' > 'Add Source'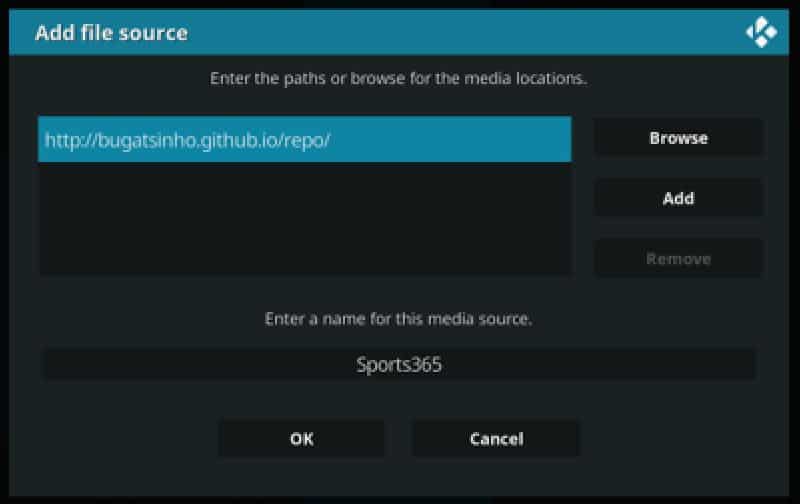 A dialogue box will appear with two empty fields. Double click on where it says <None>. In the text box that appears, paste the web address below exactly as it is – http://bugatsinho.github.io/repo/ and then click on 'OK'.
In the bottom slot of the window, click on it and name the file 'Sport365' or something else that you easily be able to remember and then select 'OK'.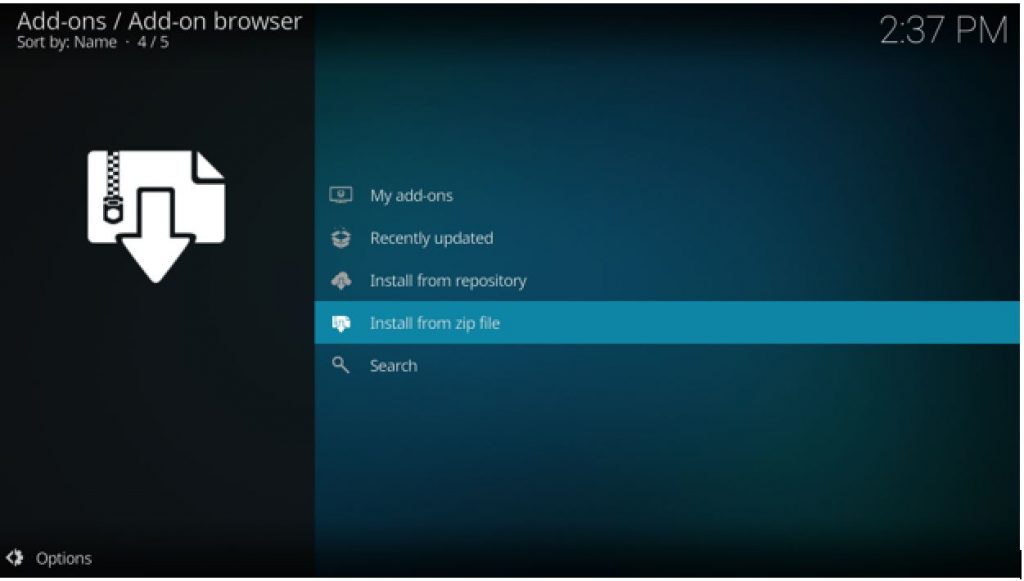 Head back to the Kodi main menu and select 'Add-ons' from the panel on the left of the screen.
In the next display, select the 'Open Box' icon at the top of the left-side menu.
Select 'Install from zip file'
A box will appear with a list of available zip files in the computer. Scan through and locate 'Sports365' or as you had earlier named it and click on it.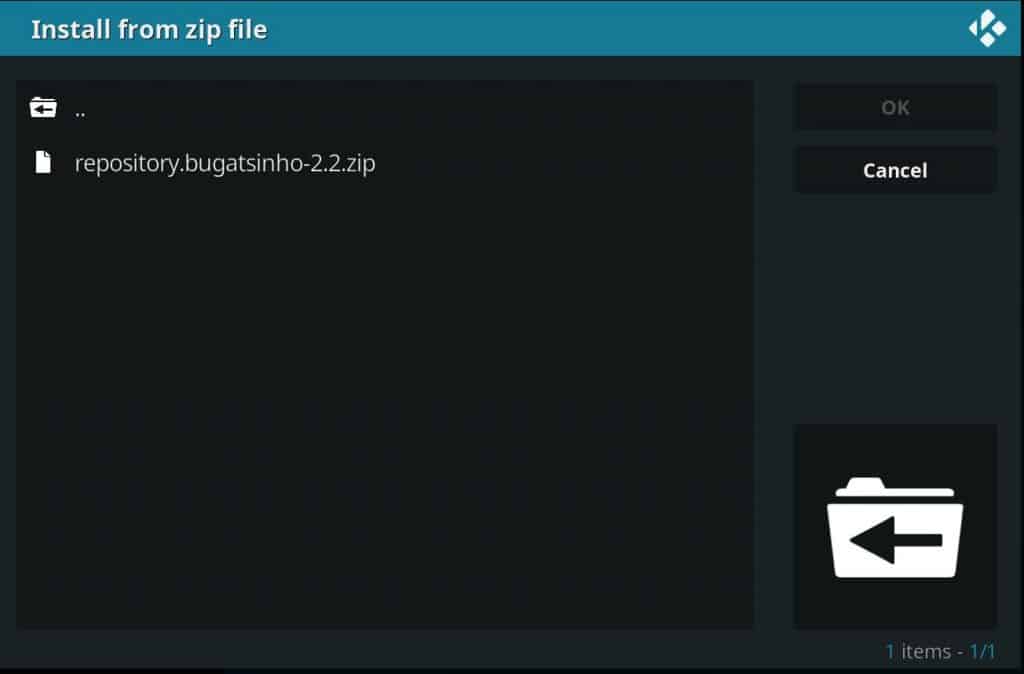 Select 'repository.bugatsinho-2.2.zip'
Wait a while for the repository to download. A notification will appear confirming that the 'QWER repository' has been installed.
Select 'Install from repository'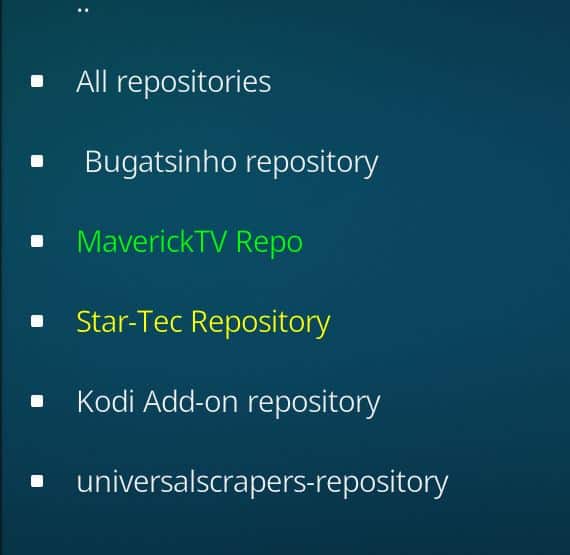 In the next screen, you will see a list of installed repositories in the system. Navigate until you find 'Bugatsinho repository' and click on it. You will be able to see the repository logo on the left side of the screen. Double click on it to open.
Click on 'Video Add-ons' > 'Sport 365' > 'Install'
Now you can enjoy tons of sports channels on Sport 365 Live add-on for Kodi.
Conclusion
If you are interested in sports and streaming the latest games and matches online, then you absolutely need to take a look at Sports 365. It has all of the games you want to watch in the highest quality. Remember to install a VPN like Shellfire first to ensure that you are protected when you use Sports 365 or any Kodi addon.