Kodi 18 is running on most of the devices across the globe, mainly on PCs but you can also set up Kodi 18 on an Android TV Box and even on Amazon devices like Firesticks and Fire TV Cubes. If you are looking for the latest working method to setup Kodi Android TV Box, then this guide is perfect for you!
Safe Streaming Isn't an Option but a Necessity!
Kodi being an open-source platform becomes a little risky when you install third-party add-ons for streaming on different devices. These add-ons can exploit media links from torrent and other vulnerable sources. Copyright violation is a major problem that could occur when using third-party add-ons and plugins. You need to keep your identity secret and you can do it by installing a reliable VPN.
With various premium VPNs available in 2020, things become confusing when trying to select the best one. Shellfire VPN is a German Based service that is extremely reliable as well as useful while charging less than most of the premium services. There are Shellfire servers in 37 countries worldwide covering six continents. It also has its servers in the United States. With the premium plan, you get access to all premium Shellfire servers.
The speed of the Shellfire VPN is quite good and the no-log policy ensures complete privacy of your information, traffic to your connection, and browsing history. This way you can browse safely and anonymously to avoid watchdogs and hackers.
Shellfire serves with OpenVPN, PPTP VPN, and L2TP/IPSec protocols at 128/192/256-nit. The pricing of the Shellfire Premium Plans is suitable considering the VPN features it offers. You can choose the most suitable plan from the available Three-Level Shellfire Services.
The Basic Shellfire Service uses the OpenVPN protocol and is completely free. But the encryption level of this free plan is low. Premium Plans serve with advanced VPN services including access to premium unlimited servers and high-end protocols with exceptional encryption. Shellfire is compatible with Linux, iOS, Windows, Android, Mac OS X, as well as DD-WRT routers.
Another distinction of Shellfire VPN is the Shellfire Box. This 4K capable VPN Router lets you set up a VPN on devices that would not otherwise have the capability and speeds up the overall connection of your traffic dramatically.
Step-by-Step Guide to Setup Kodi on Android TV Box
Firstly, you have to make sure that you have a personal Google account, or if you don't then create one free of cost and log in through your TV box.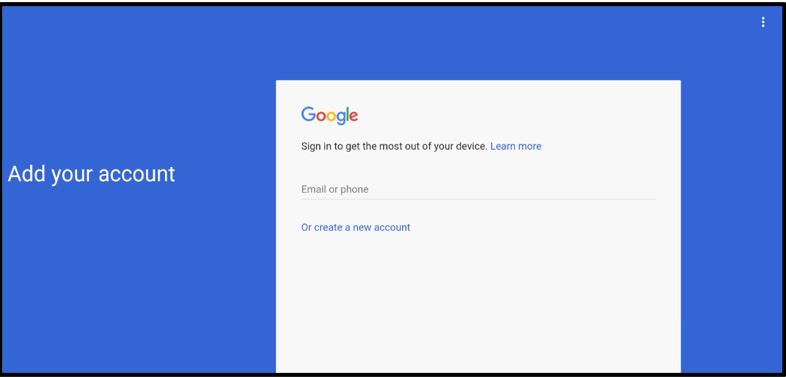 You have to make sure before installing Kodi that the device's OS is compatible with the Kodi's version you are downloading. If you want to use the latest version, which right now is 18.6 then you must have the Android Operating System 5.0 or higher downloaded.
Next, open the Google Play Store on your Android TV box. Keep in mind there are a lot of different themes with TV boxes so the interface might not look exactly like what is pictured below.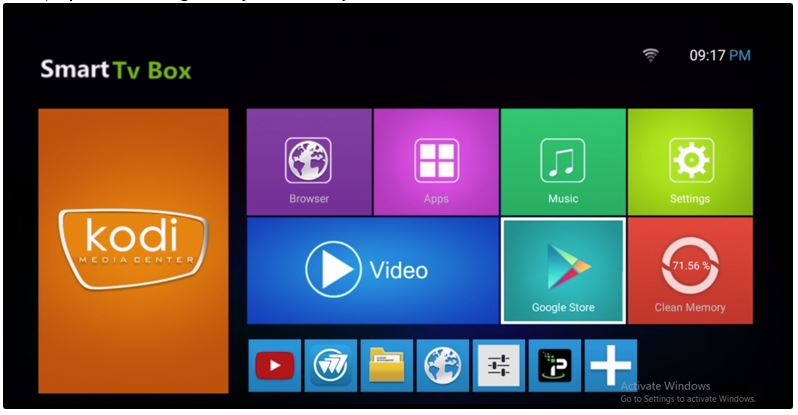 Type the application name "Kodi" and open the first app, developed by XMBC Foundation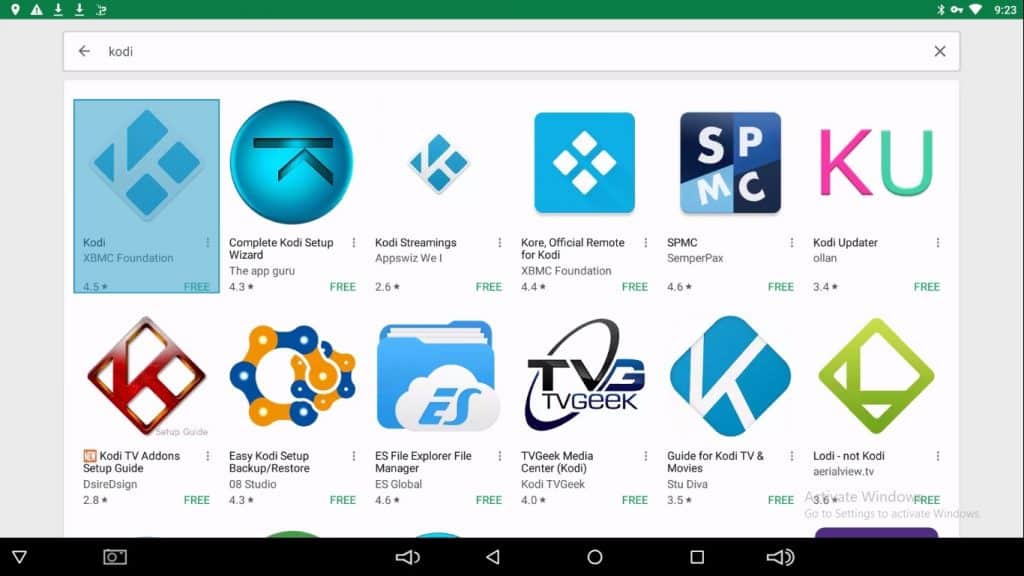 Bring the cursor to the install option and press it and then after some time, you will be notified that Kodi is downloaded and ready to be used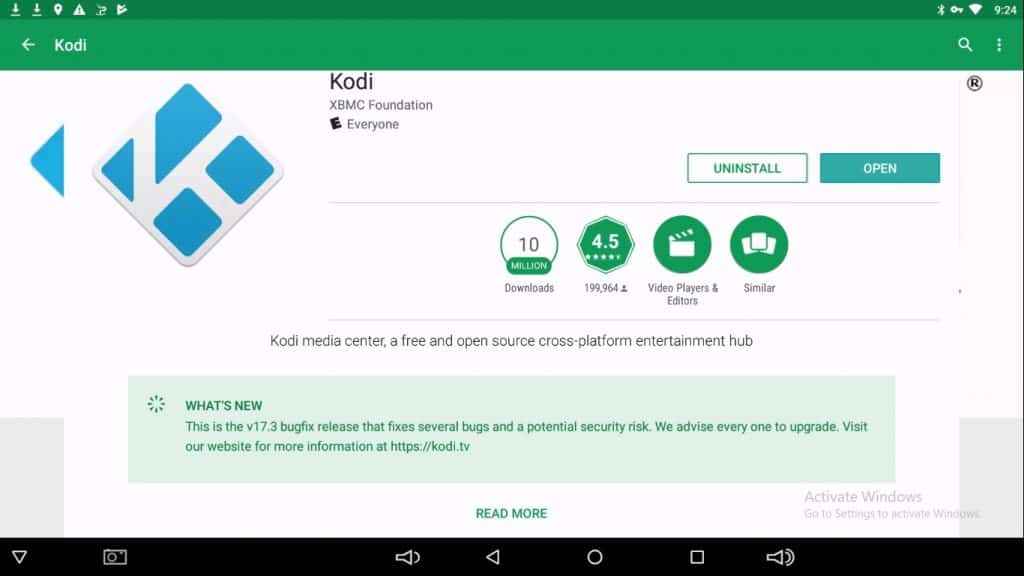 Now open Kodi and see if it is functional on your Android Box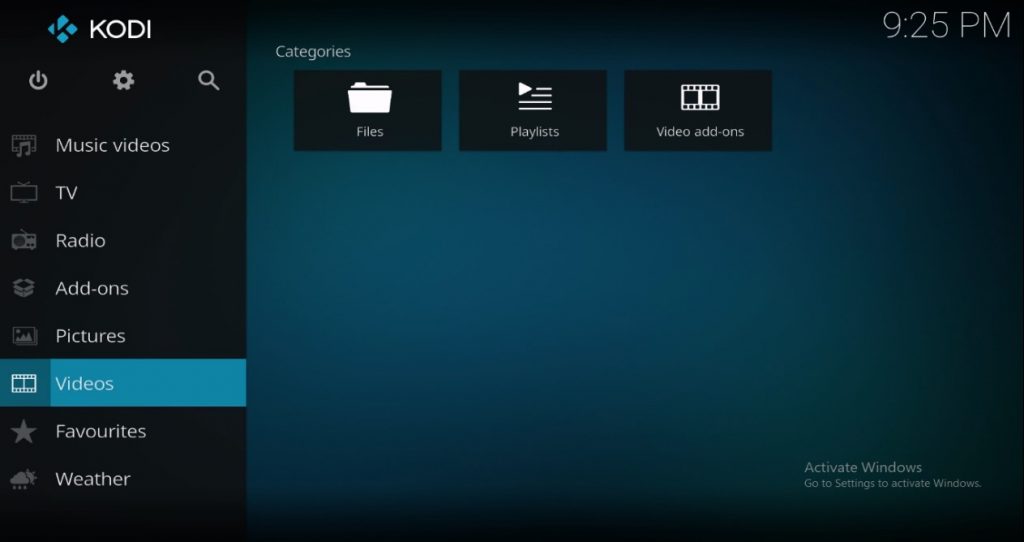 As this might be your first time setting up an updated version of Kodi you might need assistance and guidance. Don't worry, we have got you covered!
When you will open Kodi, you will be directed to the main menu where several categories will appear by default; these categories may be: Movies, Radio, TV shows, Pictures, and Add-ons, etc.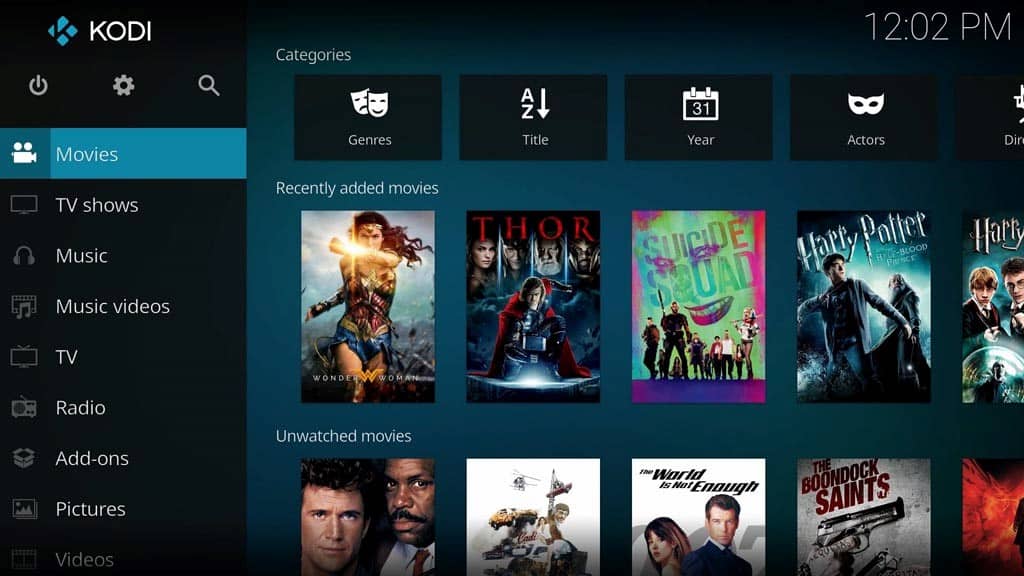 Some categories will be more content-specific. For example, if you decide to watch Wonder Woman, you will search for it in the movies and then click on it. Then a context menu will be displayed which will provide several options regarding the movie. If you refer to the image below you will see how you can start the movie, obtain additional information about it and mark it as an already watched movie.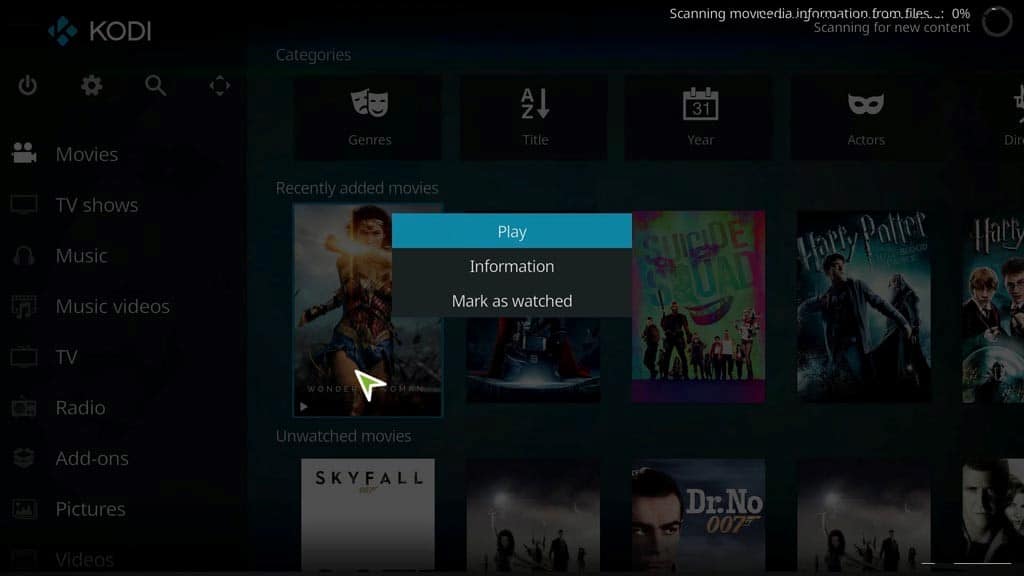 Set-up a Video Library at Kodi
Kodi is a media center so if you have your own library of titles in a digital format, Kodi is able to help you organize them quickly and easily. You can off course also use Kodi with addons to access different types of entertainment. For example, the Fight Club addon is excellent for MMA events like UFC and WWE, or if you're more interested in movies you should try T2K 1 Click Movie which you can install following these instructions.
To set-up Kodi to access your own private media library you need to make sure that the video files are saved in a specific format that is compatible with Kodi. This format will also differ from the usual format of movies and TV shows as it will be distinctly for videos.
This is where the filename comes in the picture. Based on the particular filename, Kodi can identify each file and discern it from others; the process where Kodi extracts data from different files is termed as scrapping.
Organize Kodi's Media Library
If you want to avoid the cluttering of your media library, then you can opt either of the two ways to seamlessly organize your media content:
Create a single folder comprising of all the media files
Create a separate folder for every individual movie, TV show and media file
Try to add the year of movie's (or any media file) release in parenthesis with the name so it can optimize the function of scrapper.
Set-up Your Kodi's Music Library
The new version of Kodi is more automated and makes it easier for you to add music to your library. Unlike before, whenever you will add a new source, the system by default will ask you whether you want to scan all music files present in the folder. This way you would not have to manually open the context menu and choose the option of the scan to Library.
Create Your Photo Library
Kodi allows you to include your pictures in the media library so it isn't all about videos and music! There are no advanced features in the photo viewer of Kodi but you can always use add-ons to make your pictures' Library more fascinating.
Populate your Library with media files
Thought the type of media files may be different (movies, videos, and music, etc.) but the process to include them in your Library is more or less the same.
I will use the example of Pictures to explain how you can populate the media library with your data. Follow these steps:
Select the category of Pictures
Out of these two options, choose to add pictures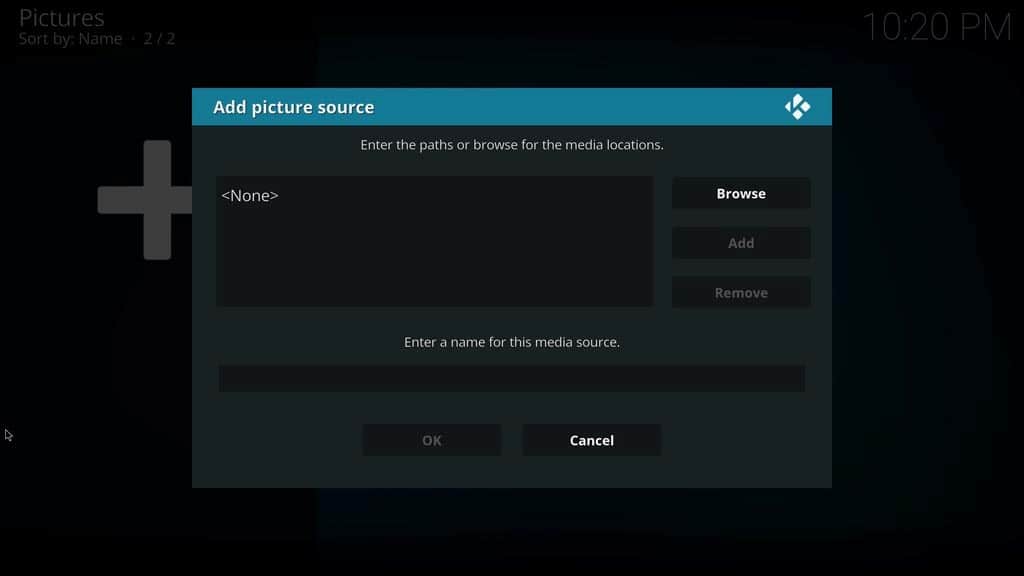 Now you have to enter the source of the picture. Click on Browse as you may not accurately remember the file path enough to type it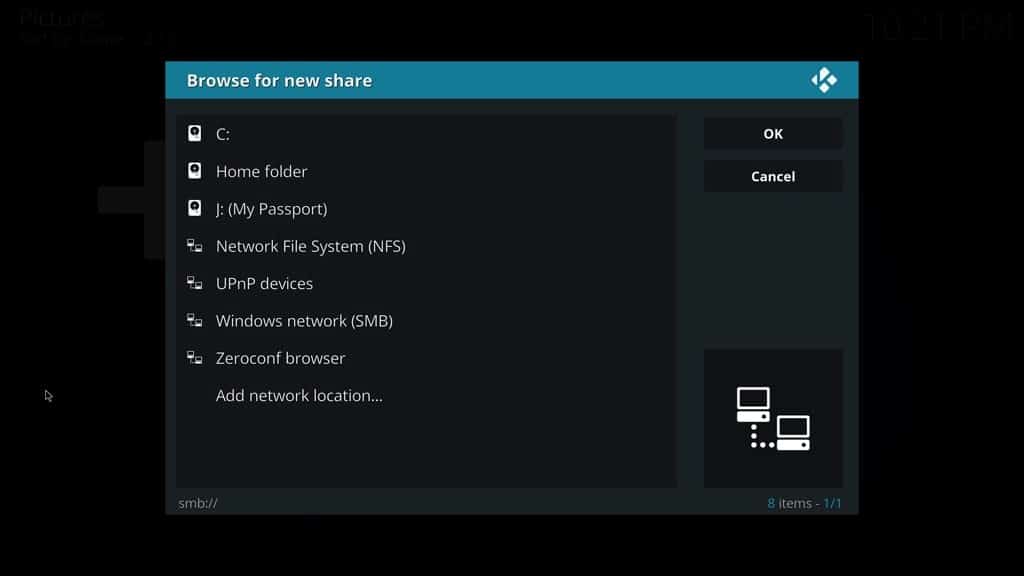 The Kodi will detect all the drives connected and the data present in them; scrapping
In this particular example, the files are saved on SMB device
Click on the Device from where you want to browse the pictures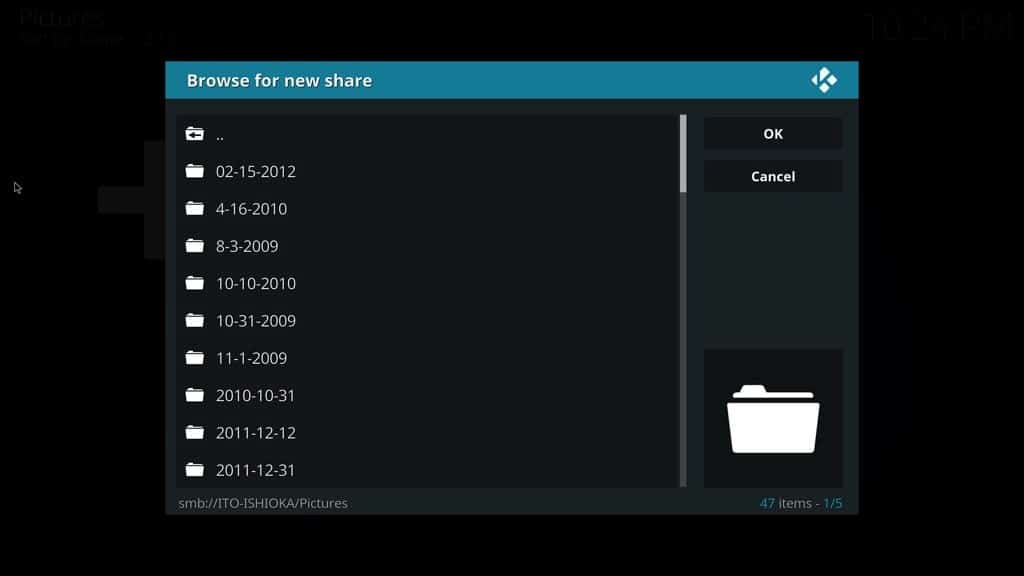 Locate the folder where pictures are and click on it
If you have found the correct folder, click OK to proceed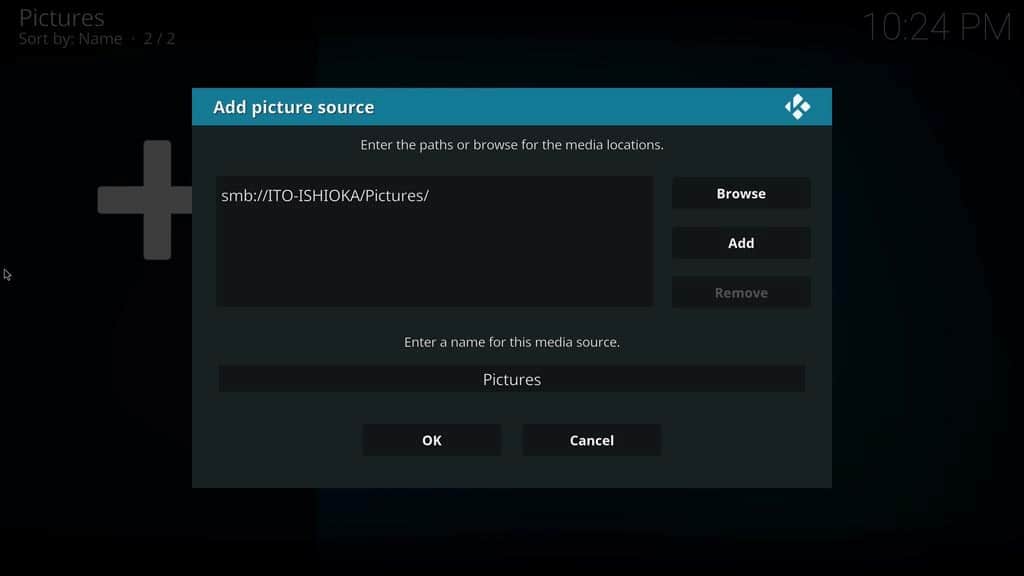 Now you will be directed back to the Pictures source window with the path mentioned
Type a name for the folder, like in this case it's Pictures, and click OK
Now you will be back in the Pictures category and you could view your folder