Currently, Amazon Prime has over 100 million customers worldwide. It gives its customers access to free shipping, streaming video, prime day discounts and other deals with a subscription fee (Normally $119 per year).
If you're a fan of Indian Cinema and Television and happen to have an Indian Amazon prime subscription, you're in luck! There is tons of content available to users through Amazon both original and not. Amazon Prime in India, in fact, has lots of excellent television content that is simply unavailable outside of the country even if you've paid for a subscription!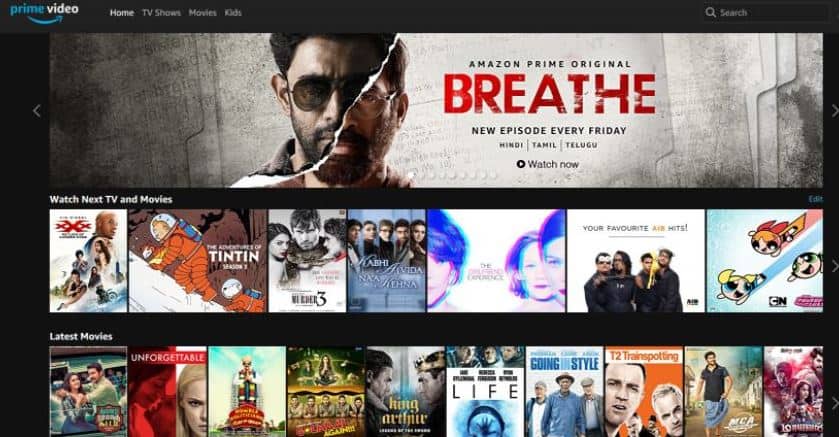 Amazon Prime was launched in India in 2017. Currently, it is available in 17 countries in North America, Europe, and the Asia Pacific. This leaves two continents out and most of Europe and Asia out too when it comes to streaming content online.
We are here to solve that problem and are going to look at how you can access Indian Amazon Prime abroad in countries where it is not available. Generally, people access inaccessible media in their countries via VPNs. We are thus going to look at a little introduction to VPNs and how they work before looking at the best VPN to watch Indian Amazon prime on.
How a VPN Helps with Amazon Prime
A VPN is a Virtual Private Network. This is an internet service that allows you to access media and information that is restricted in your geographical area safely and privately.
How a VPN works
The general working of a VPN involves encrypting data before it's detected by your Internet Service Provider. The data is sent to the VPN server before being sent to its destination. The destination thus detects the data as coming from the VPN server rather than your device, and since the data is encrypted, it is done safely and securely – no online 'eavesdropper' can peek at your data.
The VPN user can thus access data from different countries. For example, if you are in South Africa and want to access Indian Amazon Prime. You can connect your device to an Indian server and you'll appear as if you're trying to access from India and have full access like anyone else in India.
Factors affecting VPN security
The security a VPN offers vary depending on two main factors.
The technology used by the VPN.
Legal limitations which influences and may limited what can be done with the available technology.
The technology used in this case is in the form of VPN Protocols – these determine how your data is handled by the VPN. They include L2TP, PPTP, OpenVPN, IKEV2, SSTP, etc.
Legality of protocols
VPNs are not always legal in every country. China, for example, is quite strict, but in most cases they are OK. It is a new concept; hence some governments are still yet to put up laws governing them. Other countries that are strict about VPN usage include:
Turkey,
Oman,
UAE,
Belarus,
North Korea,
Russia,
Iran,
Turkmenistan, and
Iraq.
VPNs can be free or paid. Normally, the paid versions are faster, quicker and have more features. One of the best options, in my opinion, is Shellfire VPN.
Why VPNs Matter When Streaming Content
Many online video streaming services are not available in all countries. Those that are available might not be fully available in some countries – Netflix, for instance, is available in over 130 countries yet some shows aren't available in some countries.
To circumvent this, one needs to choose a VPN with servers in the country of origin of the show and connect their VPN to that particular server. If you want to watch Indian Amazon Prime, for example, you'll choose a VPN like Shellfire VPN and connect to Indian servers. You can then have access to your favorite Indian shows on Amazon Prime. Shellfire VPN is perfect for this as it has servers in 6 continents around the world.
How to Access Indian Amazon Prime
While you might have Amazon Prime in your local country, you will not be able to access Indian Amazon Prime unless you have an account registered in India. Remember that Prime Video is really just a benefit offered by Amazon in addition to its regular Prime shopping and shipping service. This might not matter to you too much unless you realize that the Amazon Prime Video service is different for every country. This means that shows in one country are not accessible in another one!
This can be a huge pain if you're used to watching certain shows and are traveling. It's also something that is unlikely to change though as Amazon only purchases the rights for specific shows in areas that it knows they will be popular.
However, if you have an Indian Amazon Prime account and want to bypass these restrictions you're in luck. You simply visit a given countries content library on the countries Amazon site. In this case, you'll simply need to connect to an Indian VPN server on your streaming device of choice. Once you've done that launch Amazon Prime video and you should have access to all of the shows from India. It really is that simple!