Misfit Mods Lite Build is one of those superior Kodi builds that has a lethal combination of great add-ons, fast performance and a lightweight design.
There is one important factor to point out with this build and, in fact, any Kodi build. When you install it, it WILL change the look and feel of Kodi – that's actually the point! – so you will need to relearn  where the different sections are. Misfit Mods Lite Build is very customizable, though, and you will quickly become accustomed to its look and feel.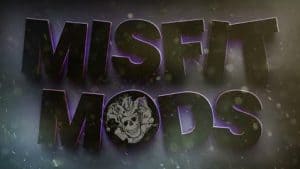 This build is chock full of popular add-ons like:
Mobdina,
ESPN 3,
Cartoons 8,
Empire,
Bennu,
Neptune Rising and so much more.
As a result, you can access a lot of content including live sports, movies, cartoons, TV shows and special events like UFC and WWE on a single screen.
The user interface is also clean and well organized into six main categories (Live TV, Sports, Movies, TV Shows, Kids Zone and Music) to avoid clutter. Each section contains the relevant add-ons, and you can drill down within them to get access to even more.
For example, within Live TV you can access the Mobdro add-on and then select News and then CNN. Everything is intuitive and easy to understand. The media player itself offers subtitles and even gives you the capability of offsetting this if the picture and subtitles are not in sync.
Misfit Mods Lite works on all Kodi versions including Amazon Firestick devices. It is in fact one of the smaller builds available and is very well designed.
Why you need a VPN
Before I get into the full details about where you can get Misfit Mods Lite, I can assure you that it's safe for you to do so! Anyone who is conversant with internet TV and streaming knows about geo-restriction and blocked content.
Without a VPN, you are subject to being blocked when trying to access copyright protected Kodi content by your internet service provider (ISP). ISPs are now allowed unlimited access to your browsing activity and often block content (leading to Kodi errors) and throttle streaming links.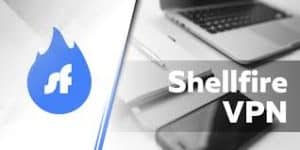 VPNs serve a dual purpose when it comes to streaming content. When it comes to georestricted content, VPNs help you bypass this restriction. The way it works is that they mask your actual IP address and give you one from a local server in a country where the content is available. Shellfire VPN for example has servers all over the world which makes it ideal for bypassing georestrictions.
The second way they help though is that they encrypt and secure your connection. VPNs like Shellfire VPN setup an encrypted tunnel between your device and the VPN server. Traffic sent through this tunnel is completely private and no-one is able to determine what you are viewing.
For private and secure browsing, it is advisable to get a paid VPN solution like Shellfire VPN. While free VPN solutions do exist, they tend to slow down your internet speed and can even install malware on your system causing you significantly more problems in the end.
The Shellfire VPN interface is user-friendly with multiple countries around the world available. If you want even more control, you can look at the Shellfire Box. This tiny device lets you create secure VPN for your whole home including devices that normally wouldn't even be able to access a VPN like a Smart TV. It's available on Amazon and includes a years subscription which makes it an amazing deal.
How to install Misfit Mods Lite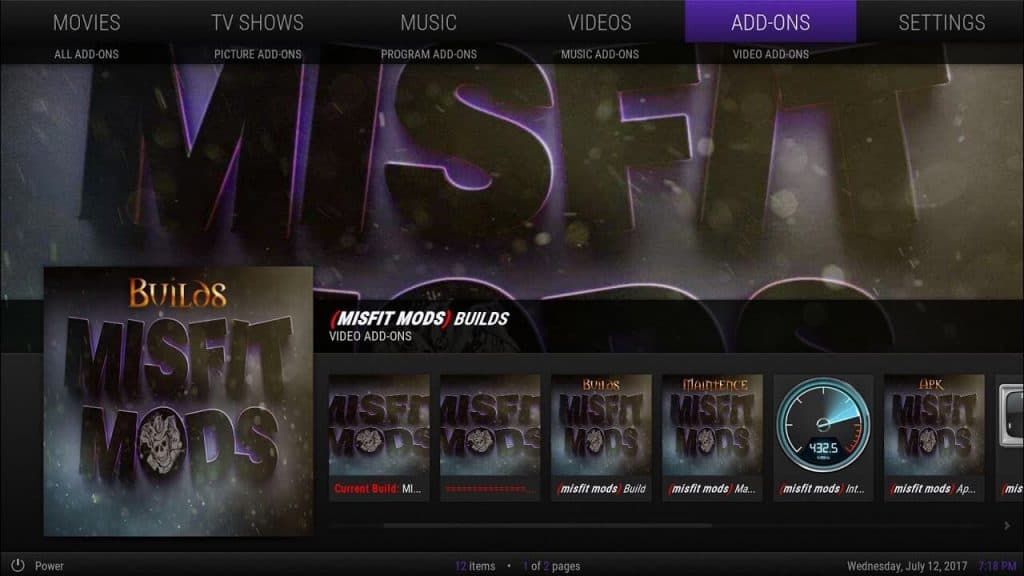 The following is a guide to install the Misfit Mods Lite Build on Firestick or Kodi Krypton:
Before proceeding, enable unknown sources by toggling the switch to 'ON' from Home Screen > Settings > System Settings > Add-ons > Unknown Sources. By default, Kodi doesn't allow third-party installations due to copyright issues.
After enabling unknown sources installations, go back to the Kodi main screen and open System > File Manager > Add Source > <None>. When prompted to enter a website path, enter this URL http://misfitmods.com/mmwiz/repo/ and press Done. Type in the word Misfit as the name for the media source and then hit OK to proceed.
Return to the home screen, open System > Add-ons > Install from zip file > Misfit. Next, choose the file named repository.misfitmod.zip and wait for a notification that the add-on has been enabled.
Return to the Add-ons menu > Install from repository > Misfitmods Repository > Program add-ons > Misfitmod Wizard. Press the Install button and wait for the Add-on enabled notification.
Once again, go back to the Home Screen and click on Programs menu from which you should select Misfit Wizard > Misfitmods Builds and finally click on Misfit Mods Lite Build. When asked to choose between Standard install and Clean install, choose the former and click Yes install to begin installation.
Wait for the process to finish and then click Force close afterwards. Restart the Kodi program and access the newly installed build.