Nemesis is one of the latest Kodi add-ons and is excellent for live TV. It offers multiple different categories including live sports with all of the major channels represented. One additional feature with Nemesis that I've not seen in other add-ons is the ability to stream audio books. While this is an interesting feature, I'm not sure how many people will take advantage of it.
Before we get into the details of how to install Nemesis, one thing that we need to talk about is protection. With Kodi, many of the add-ons allow you to access content that would not normally be available. Nemesis is one of these add-ons so you need to ensure that you have a VPN in place while you're using it.
VPNs help give you privacy while you're online and they encrypt your connection so that no one is able to monitor your activities. This is especially important when streaming content as ISPs often throttle and slow down internet speeds if they determine you're using some of the add-ons in Kodi.
When it comes to VPNs the one that I always choose is Shellfire VPN. Shellfire VPN has servers all over the world which helps to bypass geographic restrictions and their servers are fast! This is extremely important when it comes to VPNs as your traffic is funnelled through the VPN servers. If they are slow, your streaming experience will be impacted. Check out our post for more details on VPNs and how you can use them to bypass country based restrictions.
Installing Nemesis on Kodi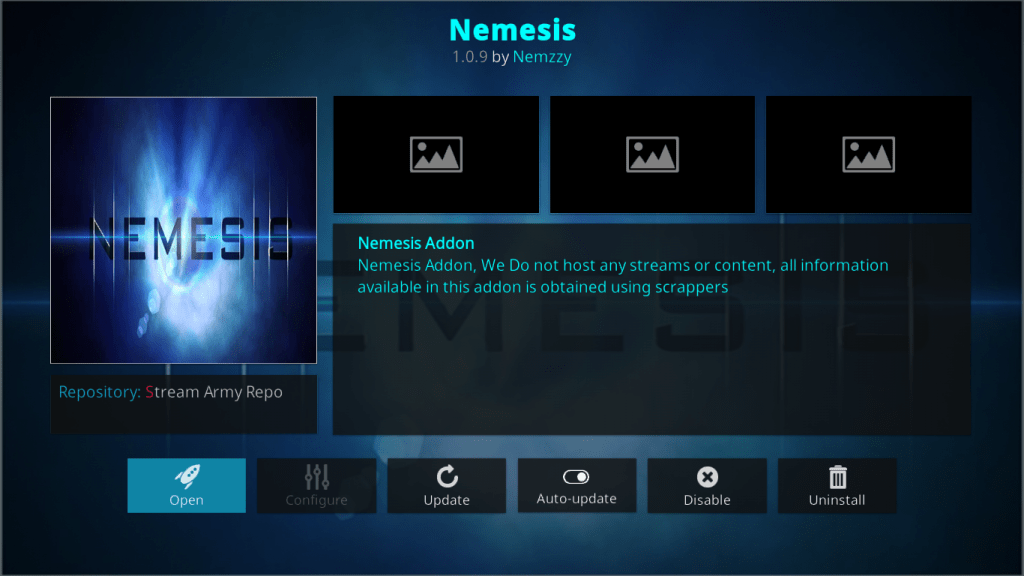 Installing Nemesis is fairly simple and straightforward. Just follow the instructions below step-by-step and you will not have any problems!
Launch Kodi and then go to SETTINGS > ADD-ONS > UNKNOWN SOURCES and enable it. This will let you install add-ons from locations aside from the normal Kodi sources.
Go back to the main home screen and click on SETTINGS > FILE MANAGER > ADD SOURCE and then type in http://streamarmy.co.uk/repo into the text field on the page and then click on OK. In the box underneath, give this repo a name that you will recognize like STREAM and then click OK again.
Go back to the main home screen and click on ADD-ONS > ADD-ON BROWSER (this is the icon that looks like a box opening at the top left side of your screen).
Select INSTALL FROM ZIP > STREAM > repository.streamArmy-x.x.zip and then wait for the add-on enabled notification. Go back one step to the add-on browser again and select INSTALL FROM REPOSITORY > STREAM ARMY REPOSITORY.
Select VIDEO ADD-ONS > NEMESIS > INSTALL and then you just need to wait for the add-on enabled notification once again. Your new add-on is now ready to use!
Once Nemesis is installed on your system, one last step remains before you can use it. You will need to visit a website – http://pinsystem.co.uk – each time you launch Nemesis. This website gives you a unique key that you enter into it when it launches and you're all done! I know it seems like a bit of pain, but it takes less than a minute and it's worth it as the quality of the streams in Nemesis are exceptional!