If you're familiar with the Marvel Universe, you've heard of Loki, Thor's brother. Well, there's an addon named after him. The Loki addon is popular with many Kodi users because of its plethora of features.
What makes the Loki addon for Kodi great? Aside from its all-in-one play feature, Loki has different categories for just about every genre of media you can imagine. If gaining access to a variety of different content interests you, Loki is the Kodi addon you want.
Loki offers content that includes, TV shows, and media kids will love, fitness, karaoke, documentaries, UFC,
The Loki addon features a variety of links, including those to 1080p, 720p, and 480p. Another feature Kodi users love about the Loki addon is the fact that the links are kept continuously updated and it offers more links that work, with better picture clarity than others. These valuable features make the Loki addon for Kodi a valuable asset in the world of online streams. In addition to the excellent content Loki provides, Loki also offers the streaming of live Pay Per View events.
If you're a sports lover who relishes being in the center of the activity, you'll appreciate what the Loki addon for Kodi can do for you. There are different options available with this popular Kodi addon. You can watch something different every day. With the variety of content Loki offers, it's one addon you'll want in your Kodi library.
Is a VPN Necessary for Streaming with the Loki Addon for Kodi?
VPNs are a necessity for different reasons. VPNs are necessary for security, privacy, peace of mind, and a variety of other benefits.
Security
VPNs offer an abundance of security options and features. The internet opens many doors of opportunity for mishaps and errors. If you have information stored on your computers that you don't want anyone else to see, such as bank card numbers and other personal information, you'll need a VPN to help keep your information secure. This is where a commercial VPN like Shellfire VPN comes into play. It offers much better security than free VPNs. The small monthly fee is far outweighed by the benefits it offers from a security point of view.
Privacy
Privacy is something you don't have when you mind your business but are browsing the internet. When you're watching your favorite shows or streaming your favorite movies, you're not worried about someone using your internet connection to steal your personal information. Well, you should be concerned. It takes seconds for someone to steal your identity and years to correct it. Instead of enduring financial hardships for an uncertain amount of time, use a VPN. VPNs offer privacy by blocking unauthorized access to your computer and internet network. VPNs like Shellfire VPN create a virtual tunnel to protect your information. With all of your internet traffic being sent through this tunnel you do not have to worry about unsavory villains accessing your information.
Restrictions
Have you ever wanted to watch a movie, but couldn't due to georestrictions, also known as location restrictions? Well, not anymore. When you're using a VPN like Shellfire VPN, you don't have to worry about where you're located or the limits of the content you're trying to access. Many popular streaming companies have georestrictions, making it difficult for people who live outside of the United States to stream great media, such as TV shows, documentaries, and movies. Fortunately, Shellfire VPN has a host of servers around the world that help you bypass these restrictions ensuring that you have access to all of the entertainment you could possibly want.
Peace of Mind
Having peace of mind puts you at ease. You don't have to concern yourself with the frustration that comes with the unknown. When you use a VPN, you know your data and information is safe. No one has access to files unless you authorize it. VPNs like Shellfire VPN take the weight and burden of worrying off your shoulders. There's nothing like being able to watch your favorite content in peace.
Inexpensive Prices
When you think of all the benefits VPNs offer, you're probably expecting to pay over $50 for software that protects you. The terrific news is you don't need to worry about astronomical prices. VPNs are available for pennies on the dollar. Some VPN subscriptions are more expensive than others, but there are also different subscription plans available, including plans that are weekly, monthly and even yearly. With all of the benefits a VPN offers, it would be almost criminal not to take advantage of them!
Installing the Loki Kodi Addon
Before you can successfully download the Loki addon on the Kodi platform, you need to allow the platform to accept installations and downloads from unknown sources. You can do this by visiting the Kodi home screen and selecting "settings" from the menu. On the settings screen, select "system."
Open the side menu on the left side of the screen and select "addons." Once you select the addons tab, you will see a button that can be switched on for "unknown sources." Make sure this option is set in the "on" position because it's required for the Loki addon for Kodi to work.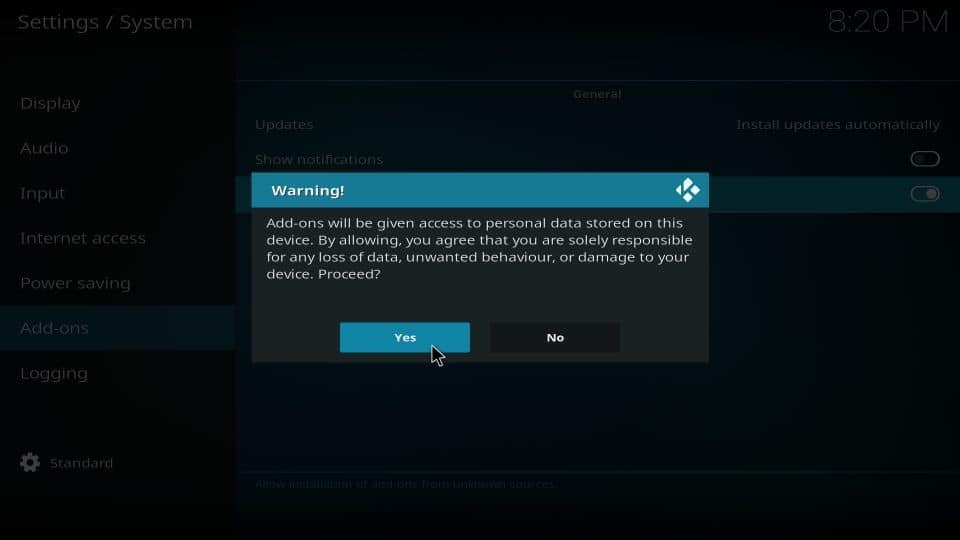 A pop-up window with a warning alert will appear. Click the "yes" option, so you will be ready to install Loki on your Kodi device.
Visit the Kodi home screen and select the "settings" option, then open the file manager. On the next screen, select the "add source" option and wait for a pop-up window to appear.
In the pop-up window, select "none." Next, you need to provide a URL source to download and install this addon. Use the URL: http://kodiuk.tv/repo. Triple check the URL and make sure it's correct, then click "okay."
Now it's time to think of a name for your source. You can name your source anything you want, but make sure it's something you will remember. For default purposes, you can name the source "Loki." Type Loki in the source name and select "okay."
Go back to Kodi's home screen and select "settings" again and click the picture of an open box that says "addons," then select the "install from zip file" option.
Select the name "Loki" or whatever you named the source in the previous step.
You just installed Loki! Congratulations!
Conclusion
Loki is a reliable Kodi addon that has all the content you will ever need. You don't have to concern yourself with hundreds of broken links and other issues that arise with some of the other addons for the Kodi platform. Make sure you always use a VPN like Shellfire VPN when you're using the Loki addon and other addons while on the Kodi platform.
Whether you intend to stream only a few TV shows or one or two movies, you need to use a Virtual Private Network (VPN) at all times to ensure your internet connection remains secure and no one can access your personal information. You can stream with Loki any time of day or night for as long as you want. There are no restrictions and a variety of content you can watch. As long as you're using a VPN, your internet connection is safe, and your data is not available for prying eyes, which helps prevent identity theft and other threats.