Match of the Day (MOTD) is a must watch program if you love football (soccer) like I do. The program broadcasts 2017/2018 football analysis and highlights and is undoubtedly very popular among football fans. It highly rates as one of the best TV Football programs in the United Kingdom and beyond.
MOTD airs on BBC, which is available for stream through the BBC iPlayer. However, due to geo-restrictions, BBC iPlayer is geo-blocked outside the United Kingdom. This simply means that the program isn't available outside the UK. Getting access to the program can, therefore, be a problem if you are living outside the UK, on holiday, or just traveling outside the country for whatever reason. 
If you've ever tried watching Match of the Day online, while outside the UK, then you'll agree with us that it is a real disappointment.  There is a huge block screen that pops up on the screen telling you that it is not possible to watch the program in your location. This is really annoying. You'll get either the following error;
"BBC iPlayer only works in the UK. Sorry, it's due to rights issues."
Don't worry; there's a solution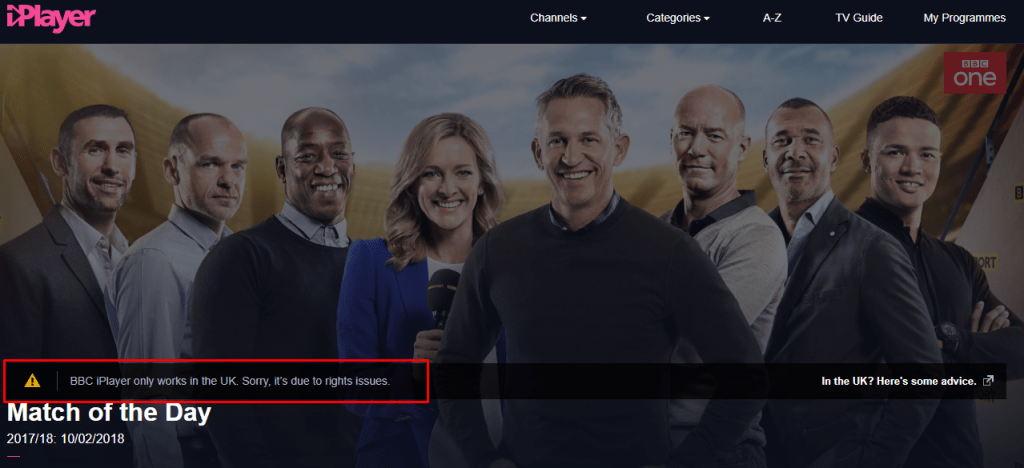 Thankfully, there is a solution to this block as VPN allows you to bypass these ge0-restrictions.  In this guide, we'll give you the steps you need to follow to watch the program online using a VPN and catch up with the likes of Gary Lineker.
To overcome these restrictions, a VPN encrypts your traffic and then passes it on to a server based in the UK. Through this process, your IP address is spoofed and you get a new one that belongs to the UK.
When you try connecting to Match of the Day again, BBC iPlayer will read your IP address. It will see that you are in the UK and then give you access.
Unblocking MOTD Stream
You can follow this guide to watch MOTD online from your Mac or Windows desktop or laptop. If you have BBC iPlayer already installed on your smartphone or tablet, then you can also watch MOTD on your iOS or Android device.
Follow the steps below to watch Match in Australia, Canada, Germany, U.S.A or any other location in the world.
Sign up with a

trusted and reliable VPN

service provider

Download and install VPN application on your device. A good VPN should have a client for iOS, Android, Windows and Mac OS.

Connect to a UK VPN server.

Visit

BBC iPlayer website

or simply launch the iPlayer application.

Watch Match of the Day from wherever you are outside the UK.
With a VPN client, you won't need technical expertise to circumvent geo-restrictions. You can watch Match of the Day from any location in the world with just a simple click.
Best VPN for MOTD on BBC iPlayer
VPNs are entirely legal as they are intended to protect your privacy as you browse online data. However, since BBC started blacklisting VPN IP address in 2015, you might still have issues when trying to connect to a UK VPN server.  This is why it's important that you sign up with a reliable VPN service that is still compatible with BBC iPlayer. Shellfire VPN is the best VPN service preferred for bypassing geo-restrictions, allowing you to stream Match of the Day through BBC iPlayer outside the UK. Shellfire VPN has a good number of fast servers in the UK that allow you to make a connection to the United Kingdom easily. Their super speeds help you stream the program in HD and eliminate lags caused by decreased speeds.
What makes Shellfire the best VPN to unblock MOTD outside the UK is that it has managed to evade the restrictions that BBC puts on VPNs. It, therefore, allows you enjoy all BBC iPlayer programs without a struggle.
What if my device is not compatible with a VPN
If you stream BBC iPlayer using your Play Station, Xbox, SmartTV or any other device, then it may be of great concern how to unblock Match of the Day or any other BBC iPlayer program while abroad. To help you deal with such a situation efficiently, Shellfire provides the Shellfire Box, a tiny little device that is perfect for unblocking geo-restricted content.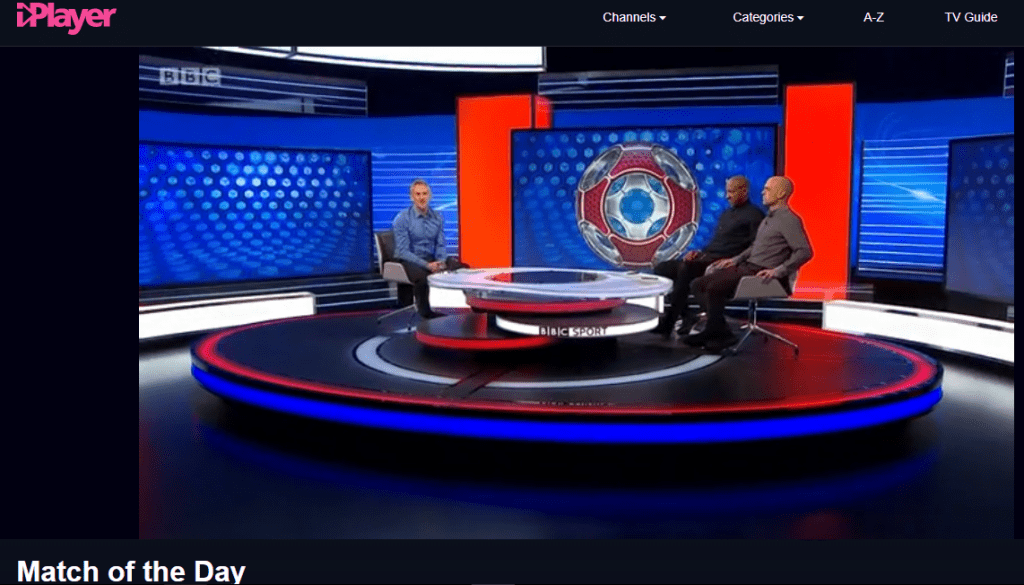 This device provides a VPN-ready network connection for the whole home, and it costs just a few bucks more than the Shellfire VPN premium service. It is effortless to connect to your TV, and it will bring Match of the Day to any device in your living room!
Now, BBC iPlayer requires you to create an account to access BBC iPlayer streams. They still don't need a payment method, which makes it a stressfree process. All you need to have is a UK postcode, which you can generate here and play your stream.
Enjoy watching your favorite football program with Shellfire!