It is good to see Kodi being served by a bunch of new add-ons to facilitate the users with streaming options to different types of video content from movies, to TV-Shows and Sports.
If you are a WWE fan, you are probably looking for a working Kodi add-on for WWE Events. Today, we are going to walk you through a step-by-step guide to install Johki's Wrestling add-on on Kodi. It is frustrating to see popular add-ons blocked from Kodi. But there is always a solid reason – Kodi developers block those add-ons which violate their policies. But on the other hand, you keep getting new add-ons each passing day. Johki's Wrestling is one of those promising add-ons that managed to impress us.
Johki's Wrestling Addon for Kodi
With Johki you get links to scores of top-quality streaming options and on-demand videos. Though, the name of this add-on suggests that it is an exclusive add-on to watch WWE events. The fact is, Johki's Wrestling also contains links to UFC Fights and Live TV channels. It means that you don't have to look for a separate add-on to enjoy UFC Fight Nights. Most of the WWE fans also love UFC Fight Nights.
Johki's Wrestling is compatible with all Kodi supportive devices including FireStick, smartphone, PC, Fire TV Cube and more. Before you install Johki's Wrestling addon on Kodi, we recommend you to protect your network first. The fact is that WWE and UFC Fights are copyright-protected and have very limited broadcasters. Secondly, geo-restrictions block your access to the WWE and UFC Fights from certain regions. But it doesn't matter as long as you are a WWE or UFC fan. On the other hand, security and privacy do matter a lot. This way you can protect yourself from legal complications.
Install a VPN
We don't want WWE and UFC fans to stay deprived of the live broadcast. A reliable VPN service is the only secure option to get rid of multiple issues associated with streaming videos online.
There are a number of VPN services operating across the globe. You can check and compare the features of these services to select one for you. If you are too busy to go through comparisons and reviews, let us make things easier for you as trust me, I've used a lot of them in my day!
We recommend Shellfire VPN for all Kodi and streaming video content.
Shellfire VPN is secure thanks to its end-to-end encryption algorithm that is virtually impossible to crack. This feature protects your information and lets you hide your online activities from ISPs, government agencies, and hackers.
Shellfire VPN operates in a host of different countries and thanks to this wide global network, the service can easily assign your network with a virtual IP address from a suitable location. For example, ESPN+ is the official UFC Fight Night broadcaster in 2019 but this channel is geo-restricted in many countries. You can bypass geo-restrictions with the help of Shellfire VPN.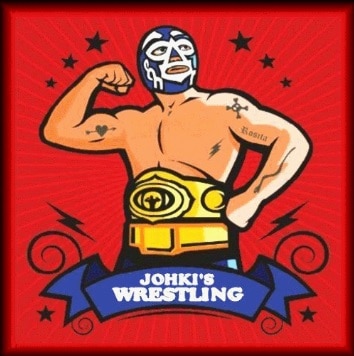 More importantly, your ISP will never learn what is going on. They can't monitor your online activities, they can't extract your personal information which they are looking to sell to advertising agencies. They'll never know whether you are accessing copyright-protecting content. All these features suggest that a reliable VPN service is almost mandatory for anybody using the internet. Privacy is the basic right that everyone needs to exercise and a VPN service helps you to do this.
One feature that makes Shellfire VPN the best though is something none of the other VPN providers offer. You see, Shellfire VPN lets you use the Shellfire Box. This tiny little device provides you with another access point for your home. With it in place, you can use VPN services on devices that were previously unprotected – like your SmartTV. Now your whole home is secure thanks to Shellfire VPN and the Shellfire Box.
Steps to Install Johki's Wrestling Addon on Kodi
Johki's Wrestling is a third-party add-on (they also call it the community add-on). It means that it is not the official Kodi add-on. So you need to allow the device to download files from external (unknown) sources. For this, you need to change Kodi settings by enabling Download from unknown sources.
Launch Kodi and go to Home Screen > Click on the Settings icon (If you are using Kodi 17.6, you need to click on System Settings, in the case of any other version, you need to click on System > Select Add-ons)
The screen will now show you the option Download Sources. Make sure that the toggle switch is ON. (You can turn this setting OFF anytime you want after the completion of the installation process)
Return to Kodi Home Screen
Once more, go to Settings > This time you need to select File Manager
Hit Add Sources > A window will appear where you need to select the option <None>
Now you can type the URL link from where you want to download the repo files. Type http://mcteam.tech/repo
Previously, we used to type kodi.mancavekodi.com but the URL has now changed and the previous link isn't functional anymore.
After typing the URL, the system will need you to type in the name of the source. You can type anything you like. We are typing in mancave. Do remember whatever you type because you will need it to search later on.
 Select OK
In the case of Kodi 18 Leia, keep the Back Button pressed as long as it takes to return to the System Window where you have to click on Add-ons
 In the case of Kodi 17.6, you need to access the Home Screen where you will find Add-ons. Click on the Add-ons and then hit Open-Box
 Now hit on Install from zip file > Recall the name you typed as the source (in our case it is mancave). Click on the file name to open it.
 Now the new window will show different zip files. You need to select the one with the highest number at the end (repository.mancaverepo-x.x.x.zip). In our case, it is the file that ends with 3.0.4.zip
 Now click on Install from repository > Select the name of the repo, it is Man Cave Repo
 Click on Video add-ons > Look for Johki's Wrestling and select it
 Click Install > Click OK
It will take from a minute to a couple of minutes to install Johki's Wrestling addon on Kodi. Now you can enjoy top-quality WWE and UFC streaming experience.
Conclusion
Do not forget to install a VPN first if you want all the links to work. In addition, with the VPN, the streaming will be faster and you can access these sources with complete anonymity.