Amazon Fire TV Stick is a media player that was created by Amazon Company. The device is small and is used for streaming audio and video content. The player can also be used for playing video games. It streams super HD, which is around 1080 pixels and can be used with a variety of applications like;
Though the device is quite flexible and compatible enough to offer you the best form of home entertainment, all this great content is not available on a global scale. The stick has penetrated to other countries from the US, but what hasn't traveled with it is the amount of content that one can access, and this is due to geo-restrictions imposed on content by Amazon.
Amazon Fire TV Geo-Restrictions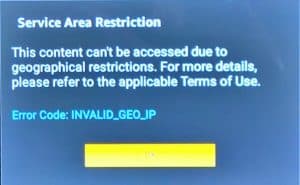 Geographical restriction of content by media streamers has become a trend today. Though it's meant to preserve copyrights, it's very frustrating when you have a subscription, but you still can't access your favorite TV shows just because you have traveled out of the country o because you live in a different country.
When you try streaming using any Amazon Fire TV app, it checks your IP address. An IP address can be used to determine where your internet traffic is coming from. If the app sees that your IP is not American, then your traffic is blocked.
However, streaming of Fire TV content in any part of the world has been made possible by the availability of Virtual Private Networks. With a VPN, one can be able to stream the Amazon Fire TV from any part of the planet.
How a VPN helps overcome geo-restrictions
In the simplest of words, a VPN makes your web traffic appear as if you are from another location.
Let's say that you want to unblock Netflix US using Amazon Fire TV. What you need to do is connect your VPN to a US server. If you have selected a good VPN for unblocking Netflix, then Netflix will think that your traffic is from the US and give you access to all available shows.
To do this, a VPN first encrypts your traffic using various protocols and then sends this traffic through a secure tunnel to a VPN server of your choice. To connect to the internet, you now won't use your ISP server, but your VPN server. Since that server is located in the US, it will give you an American IP address, and mask your location.
Using a VPN with Amazon Fire TV Stick
The Amazon Fire TV Stick is based on Android, and therefore it supports most applications that work on Android. This means that you can install a VPN for use on Amazon Fire TV Stick. However, if you have the first generation of the Amazon Stick, you won't be able to install a VPN on the stick. This is because the first generation devices were not strong enough to handle VPNs.
A solution that can work on all Amazon Fire TV Sticks is using a router-based VPN, or simply using the Shellfire box.
The Shellfire Box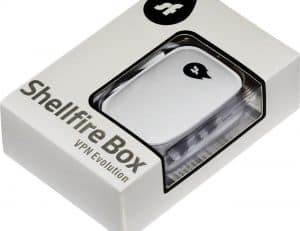 In Shellfire's own definition, the Shellfire box is a "tiny little box, which secures all internet devices at home simultaneously and unblocks blocked websites." This is true, and Shellfire box functions more like a VPN router. It gets internet from your modem router, secures it and then broadcasts a secure network to use with all your home devices.
The box uses the Shellfire VPN, which is one of the best VPN at unblocking the giant steaming services like Netflix, Hulu, BBC iPlayer, etc. The VPN stores no logs at all, and has no IP leaks.
Considering that the box costs only fractionally more than Shellfire's PremiumPlus VPN plan, its purchase is a no-brainer for Amazon Fire TV Stick users.
Unblocking Content using the Shellfire Box
To unblock content on Amazon Fire TV Stick using the Shellfire box, all you need is a Shellfire VPN account and the Shellfire box. After that,
Simply connect the box to your router.

Some automatic configurations and connections will make it super-easy to set up the box.

Just connect the inbuilt router to US server, or UK server depending on what content you want to access.

Connect your Amazon Fire TV to the network broadcast by the Shellfire Box
Just like that, you will have unlocked the full potential of your Amazon Fire TV Stick. Enjoy!!