If you're a fan of Kodi & someone that has been using it on an Android box with different addons for a while, you might have been shocked at what has happened recently. The situation might be even worse if you've been using a Kodi build like CellarDoor TV or No-Limits Magic as in that instance you'd not even know what has happened.
The situation is that the newest version of Kodi was recently released. Now while the more recent releases of Kodi 18 were only small upgrades, Kodi 19 is a radical overhaul of the whole backend and has been completely rewritten in Python 3 versus the older Python 2.7. Sadly this means that many of the addons we've grown to love over the years will struggle to work and might in-fact completely fail.
For readers (like myself) that have grown to enjoy the functionality that a Kodi build provides, this upgrade might have gone unnoticed in the background as the build loading screen takes over. In this case, you might wonder why everything has stopped working and assume that it is a problem with the build or the specific addon. You'd be right but not for the reason you're thinking. In this case, the fault lies with the version of Kodi you're using instead of anything else.
Checking your Kodi version
To check what version of Kodi you are running and to see if you're impacted follow these simple steps:
PC
Launch Kodi on your device
Click on the gear or 'settings' icon and select 'system information'
You will find the Kodi version under the 'version info' section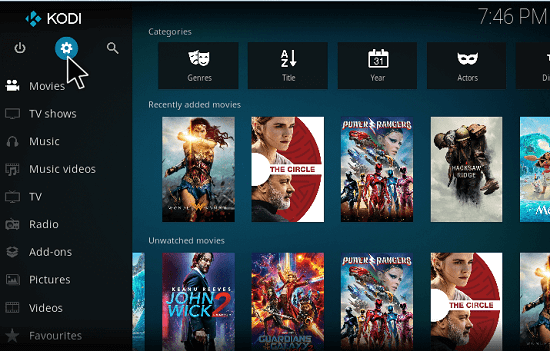 Android
First, go to the home screen and click settings.
Now, click on Apps and select Kodi from the list of apps.
In the Kodi app's setting dialog box, you will see the 'Version info.'
Firestick
First of all launch the Kodi version on Firestick operating system.
Now go to settings or click the 'gear' button to launch the settings tab.
Here you will find the 'System Information' tab.
You will find the Kodi version under the 'version info' section
In any of these instances, if you're running Kodi 19 – Matrix, that is the root cause of your issue and why your addons are no longer working. Now, over time some & potentially all of these addons will 'return to life' as the developers make changes. In the interim, however, your best option is to roll back the change and return your system to the older Kodi 18.9 – Leia, which we'll describe below.
Protect yourself online with a VPN
Before I get into the details of how to get your system back to a working state, I'd be remiss in not sharing information about VPNs with you. A VPN or virtual private network is one of the best ways to protect yourself online.
Once you get your system back into operation, you'll probably find a renewed love for your third-party addons and will start to use them even more which can leave you at risk. Since third-party addons are risky and the end-users hold the responsibility for copyright violations so anonymous streaming is extremely important. You can do it by using a reliable VPN service. Apart from hiding your identity, the VPN helps you to optimize the functionality of Kodi addons by unblocking regional restrictions.
Apart from anonymous streaming, optimized performance, and speed, privacy is a huge concern these days. Hackers are not the only risk since there is a collaboration between the ISPs and the government agencies to monitor the online activities of the users. Moreover, ISPs, in some countries, are legally allowed to sell browsing history and personal information of internet subscribers to advertising agencies. But there is hardly any need to worry if you are using a reliable VPN such as Shellfire VPN.
Shellfire is a German-based VPN service that now has servers in 37 countries worldwide including the UK and the United States. I've been using Shellfire VPN for over a year now and its performance is impressive. Pricing is highly competitive, lower than most mainstream VPN services and there is no compromise on high standards.
Shellfire VPN is compatible with Windows, iOS, and Android Operating Systems and it serves with 256k encryption and unlimited speed. Since most Kodi movie addons operate in limited regions, Shellfire VPN can help you run these addons from anywhere just by selecting the right server in seconds.
To protect your personal information, the 256k encryption is coupled with the Zero-Log policy which means that the servers don't save the browsing history and other information of the users. Moreover, Shellfire VPN protects your device and its data even if you are using public WiFi. Hackers are most active on public WiFi servers and they find it super-easy to remotely install the spy tools this way but they can't do it in the presence of end-to-end encryption.
Returning your Kodi system to working order
If you have an Android box, likely your system performed an automatic update and downloaded and installed Kodi 19 without your express approval. Until the addons and builds have been configured to work with this version of Kodi, your only workaround is to disable automatic updates, remove Kodi 19 and reinstall Kodi 18 after which you can then re-add the build or addon you want to use. While its a bit convulted, its not difficult to do so lets get started:
Disable Automatic Updates
This step is required to ensure that Kodi doesn't get updated to 19 again automatically. You can either disable auto-updates for all apps, or specifically for Kodi.
Disabling all apps –
First, launch the Google Play Store from the main menu of your Android TV box.
Click the hamburger menu icon button in the corner of the app store.
Select Settings and then under General, click on Auto-Update Apps
Select Do not auto-update apps
Disabling auto update for Kodi –
First, launch the Google Play Store from the main menu of your Android TV box.
Click the hamburger menu icon button in the corner of the app store.
Select My Apps and Games and then scroll down until you are hovered onto Kodi and select it
Uncheck auto-update
Removing Kodi 19 – Matrix
Your next step is the removal of Kodi 19. This is fairly straightforward also. You can either uninstall it from the Play store on your device or directly from the device itself.
Uninstall from the Play Store
Launch the Google Play store and search for Kodi. Simply click on the uninstall option when it appears on your screen.
Uninstall from your device
In this case, go into your Android TV Settings menu and then select Apps. Go to the Downloaded apps then select Kodi.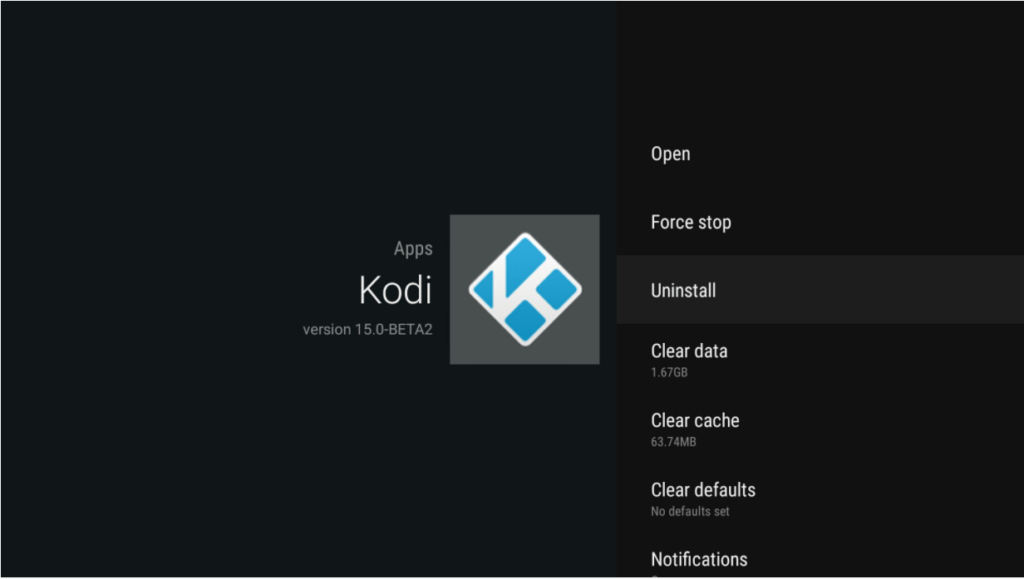 Find and install an older version of Kodi
The final step to get back into working order is finding an older version of Kodi. Now, unfortunately the Play store and the Kodi website both only offer the most recent version which is useless to you.
Fortunately, by using a Kodi mirror site you can still access Kodi 18.9 – Leia and even older versions of Kodi. Simply navigate to this site and download the .apk to your device. If your Android TV Box supports USB input, you can download it on your computer and just insert a USB stick with the included file which might be the fastest method.
Alternatively you can use a program like Downloader to download and install it for you automatically. After you've got Kodi back, your next step is adding back all of the addons you've grown to enjoy and love. To streamline this – I'd suggest that you look at using a Kodi build as everything is configured for you and all of the addons will be available. Check out some popular Kodi builds here.