Need to Use VPN on your Smart TV? If you have a Smart TV you've probably experienced the joys of streaming content online through services like Netflix and Hulu. It wasn't that long ago that the only way we could get these shows onto our screens, was by connecting our computers and laptops to the TVs through a variety of cables and connections.
Let's be honest – not only did that not look that great, it often didn't work that well either and was a bit of a hassle all around!
Smart TVs though have completely changed and simplified this for us. They give us a quick, easy and simple method of browsing and streaming media. The computer is actually built into the TV itself! Nowadays, all you need is a username and password!
However, there are still some hurdles to navigate – namely geoblocking. We've talked about what geoblocking is in another post, but to summarize, TV networks have made sure that their programs are only available in certain regions or localities.
A great example of this is certain shows that are only available on US Netflix. These shows are not on Netflix in other parts of the world. Similarly, US advertisements that are only available in Canada (you might not think this is a big issue, but during the Superbowl the ads are exceptional and Canadians hate the fact that they miss out on them)!
The Solution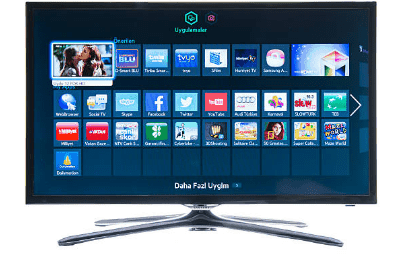 The solution to these woes is fairly simple though – a VPN. VPNs create a virtual tunnel between your connected device (in this case that's the Smart TV) and the destination server through the Internet by means of software.
The only problem, though, is that while a Smart TV has a computer within it, it's not one that you can access to install software on. You are restricted to the programs provided by the manufacturer – and none of them offer VPN software built-in!
Your best and only option in this instance is the use of a VPN router.
What is a VPN Router?
A router is what you use to connect to the Internet. A VPN Router is simply a router with VPN software installed in it. This gives you the ability to utilize all of the security, encryption and masking features of VPN software on a hardware device custom designed for the job!
VPN routers are the only way that many devices like Consoles, Smart TVs, and some media centers can bypass geoblocking restrictions. The VPN software on the router makes it appear as if all connections are coming from a permitted area.
I've tested a couple of different VPN routers over the past few years. The one that I've found most effective is the Shellfire Box. This tiny little device is about the size of a box of matches, but boy does it work!
Getting a Shellfire Box
Once you pick a Shellfire Box, you not only get 1-2 years access to premium services. You also (and probably most importantly) gain access to 33 different VPN servers located around the world. It is these servers that are the key to bypassing geoblocking, as you simply need to select the server located in the country that you are accessing the content from. Once you've connected to that server, the provider thinks you are in the local region!
Getting a Shellfire Box is really easy – especially if you're in the UK. Amazon sells the Shellfire Box with 1 year of premium service, and if you have a Prime account you can have it delivered to your door on the next working day!
Setting up the Shellfire Box is as easy as plugging it into your existing Internet router. All of the other devices in your home now have two different WiFi networks available to them. If you want direct access to the Internet without any of the encryption, tunneling and masking features, simply connect to your existing WiFi router.
If you want to take advantage of all features in VPN – including the ability to stream content not normally available – simply connect to the Shellfire Box by means of the new WiFi network. Or even better, connect directly via Ethernet.
It's a brilliant and effective solution that is well worth the price.