VPN's or 'Virtual Private Networks' mask your online identity and allow you to access the media you want to access. They enable the individual user to bypass geoblocking restrictions that would otherwise limit the channels and programs they can view.
The easy way to unblock your favourite streaming sites
Types of VPN
Software VPNs
There are many different vendors that offer software packages for VPNs. Basically, these work by installing VPN software on your device. You would then need to log in to the software with a supplied username and password. This data will be authenticated with the VPN servers.
Once you are authenticated, you can then connect to a list of provided VPN locations based on the source of the channel/program you are interested in.  You should then have full access to all of the channels in that region – bypassing any geoblocking restrictions.
Be very careful with "free" VPN providers, as quite often that cost brings with it some unforeseen risks such as malware, viruses and traffic shaping.
Hardware VPNs (VPN Routers)
Simply put, VPN Routers are normal Internet routers with VPN client software installed. There are generally two different configurations when using VPN Routers: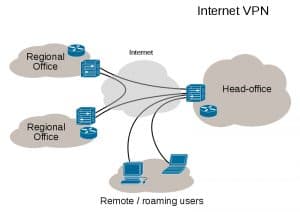 Internet Router + VPN Router – This setup gives you two different access points. You connect anything you do not want secure and encrypted to your normal Internet router. Everything else you want to be protected gets connected to the VPN Router.
Integrated Internet + VPN Router – This option has everything going through the same device, giving you complete protection.
Difference between VPN Routers and Software VPNs
The primary difference between software and hardware VPNs (VPN Routers) is convenience and simplicity. Simply put, there are some devices (Gaming Consoles, Smart TVs and media players) that do not support software VPNs.
With software VPNs you need to setup the VPN on each device manually. While this is not a difficult job, it is time consuming and tedious.  Basically, each device needs to be configured with the software and the appropriate username and password. This can be a real pain if the show you want to watch is playing live and you have forgotten your user information!
In addition to the time spent on the initial setup, you also need to remember to turn it on each time you're planning on accessing content that you wish to mask. If you do not do this, not only are you leaving yourself vulnerable, but the chances are quite high that you will be unable to access the content.
Hardware VPNs – VPN Routers – are different. They are ALWAYS ON and all of your Internet activity is protected and encrypted constantly. This is the case regardless of the device being used to connect to the Internet.
Best VPN Routers
Over the years, I've tested a couple of different solutions, and the best bang for the buck in my opinion is the Shellfire Box. This tiny little device (it's the size of a box of matches) has some serious power inside it – with a 580 MHz CPU and 64 MB of RAM. It connects via WiFi or Ethernet too, and is really easy to configure.
Even better, purchase the box through one of the premium packages and get either one or two years of service and access to servers in more than 33 countries. This is a huge benefit and well worth the investment! Get yours here.