The 2018 WWE Hell in a cell match is set to kick off this month just about a month after the 2018 Summerslam edition. The Hell in a cell matches will air live on the official channels and will take place in San Antonio Texas. Fans across the world will, however, not be able to live stream the event due to geo restrictions. Some of the matches have already been announced but there are some combos that fans are already anticipating would make it to the highly awaited event. Dean Ambrose was featured in the promo making fans go wild. The opening match has already been announced and below are some of the others we expect might be on the list.
2018 WWE Hell in a Cell matches
Daniel Bryan & Brie Bella vs. The Miz & Maryse
This is the first match that has already been announced for the event. This comes after Miz won against Bryan during the Summerslam last month after Maryse sneaked brass knuckles to the ring. This would be a chance for Mi to revenge and what a comeback it would be. Maryse also recently had a baby and this only comes a few months after Bella announced her retirement. This definitely is quite the perfect match to kick off WWE Hell in a cell 2018 season. Other possible matches that could grace the ring include the following combinations.
2018 WWE Hell in a Cell predictions
WWE Championship (Hell in a Cell) -AJ Styles (c) vs. Samoa Joe
These two have taken their rivalry to a whole new level and are now getting personal. This would definitely be the perfect ground to square things out with a Championship belt.
Universal Championship – Roman Reigns (c) vs. Kevin Owens
There is also the potential for a six-man tag team match involving The Shield.  Owen lost to Braun Strowman at Summerslam. Quite hard to tell who might take the day on this one as Reigns recently reformed. It is also possible that there would be a 6-aside tag team match with The Shield.
SmackDown Women's Championship – Charlotte Flair (c) vs. Becky Lynch
This would probably simmer up the rivalry between these two. We could also have a triple threat match if Lynch cannot contain herself and goes after Carmella. An interesting one to look out for.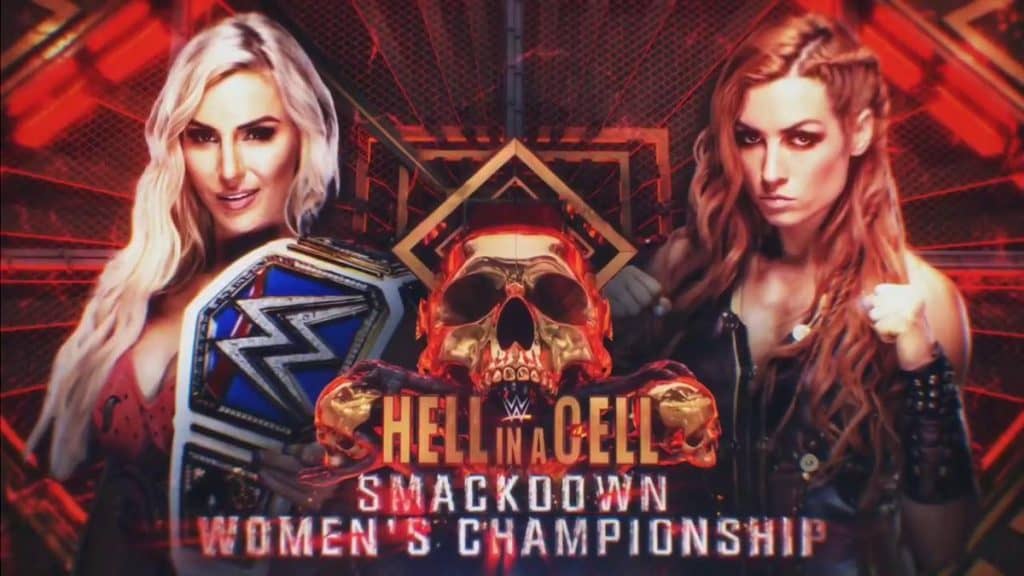 Raw Women's Championship -Ronda Rousey (c) vs. Alexa Bliss
Bliss is currently nursing an injury and could possibly be replaced by Mickie James or Alicia Fox to face Ronda Rousey. This could be a walk in the park for Rousey especially since Mickie has been out for a while but you cannot underestimate anyone on that ring.
Seth Rollins & Dean Ambrose vs. Dolph Ziggler & Drew McIntyre
These would be the perfect match for the feud that has been brewing between these pairs to finally ash out. This would be a huge one for fans.
Bobby Lashley vs. Elias
Fans were anticipating this match at Summerslam but it never happened after a series of promos. Would be a worthy apology if it comes up on Hell in a Cell.
Jeff Hardy vs. Randy Orton
Putting these two in a cell would be a crazy idea. Crazy as it is, that is what fans want. Orton and Hardy have continued to feud and might battle it out at WWE Hell in a cell if our predictions are correct.
The event will be live on the WWE Network hence to stream live you will need to buy a WWE subscription. You may love the match but why subscribe when you can watch it for free on Kodi. All you have to do is install the Kodi WWE add-ons and you will have unlimited access to all WWE live streams. Before using Kodi however, you will need to install a VPN.
Why you need a VPN to Watch Hell in a Cell
Virtual Private Networks (VPNs) are useful in protecting your privacy online, to bypass georestrictions and to prevent third-party attacks. WWE matches will only be available within the USA and hence fans from other parts of the world must install VPNs before installing Kodi to access the live stream without any hitches. It is also important to note that VPNs protect your data and ensure that no one is collecting information from the backend.
There are numerous VPNs that you can use with Kodi. Top on the list is Shellfire VPN which works perfectly with Kodi add-ons. Ensure that you are using a genuine VPN always as some may not actually work or protect you from anything.
After installing VPN, you can then stream live without worrying about cyber attacks, geo restrictions or government bylaws. Below are some of the Kodi add-ons that are great for watching WWE on demand matches such as Hell in a Cell this September.
Cerebro IPTV+
This would be the perfect Kodi add-on for streaming Hell in a Cell on Kodi. You will have access to a number of live links to stream the event. With this add-on, you will also have access to IPTV sports channels. To install Cerebro IPTV, simply follow the instructions provided below.
Start Kodi and on your Home Screen select File Manager.
On the file manager, double-click on Add source and then select
Enter the link as it is: http://kdil.co/repo
Click done and save as "Kodi Repo" then select
Return to the home screen and click on Add-ons
Click on the Package Installer button icon
Click install from Zip File
Select the Kodi Repo then select Kodi.zip
Select install from repository
Click Cerebro IPTV and Install
Wait for the notification the Click on Cerebro IPTV+ to start using the add-on.
UKTurk Playlist
UKTurk Playlist provides users with streaming links for a number of Sports. With this link, you can watch WWE, Football, NFL and so much more. This addon also lets you access all popular WWE events such as Smackdown, Summerslam, Raw, and Superstars absolutely free. To install UKTurk simply follow the detailed installation instructions.
Conclusion
With Kodi, you have no reason to miss out on your favorite matches anymore. WWE Hell in a Cell is definitely going to be on a different level this year. Dean Ambrose was on the promo and there could be a lot of surprises. Enjoy the best live streaming on Kodi for this event many other WWE matches.