Youku is a Chinese video hosting website best known for its globally renowned TV shows and full-length movies. The website allows Chinese residents to watch a plethora of TV shows and movies using their smartphone, tablets and PCs absolutely free of charge.
Unfortunately, viewers residing outside China are restricted to the access of Youku content. This means that for you to access Youku, your IP address must show that you're in China. If you try accessing Youku when you're residing, or on vacation outside China, then your access to the website will be restricted. Instead, the following block screen will appear on your screen.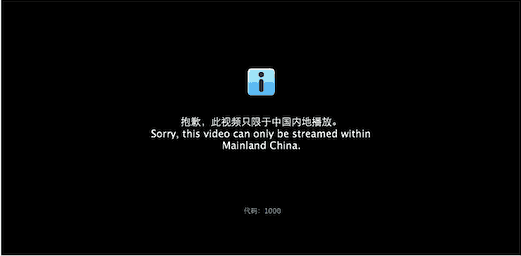 Is there anyway one can unblock Youku outside mainland China? The answer to this frequently asked question is "yes." Fortunately, there are ways that you can circumvent the geo-restrictions that bar you from accessing Youku while away from mainland China. We're going to show you how you can enjoy streaming TV show, special events, and your favorite movies, from the UK, US, Australia or any other country.
Unblock Youku for Chrome
While you can explore Youku via all internet browsers, using google chrome to access the website comes with added benefits. Apart from the Google's inbuilt translator that automatically translates the Chinese-written contents to English for you, Google Chrome also has an "Unblock Youku" extension that enables viewers outside mainland China to access the website. This extension is very easy to use. Just visit the Chrome Web store and then search for Unblock Youku from Zhuzhu.org. After that, install the extension to your chrome and then restart the browser. You can then follow the process below;
Use Google Chrome browser to access Youku and then let the translator translate the whole webpage to English.
Search for the TV shows and movies that you are interested in streaming and the play it
Ignore the error message but instead, search for the Unblock Youku icon located on your computer toolbar.
Click this icon and reload the webpage
You should be able to play your video now if you're in China.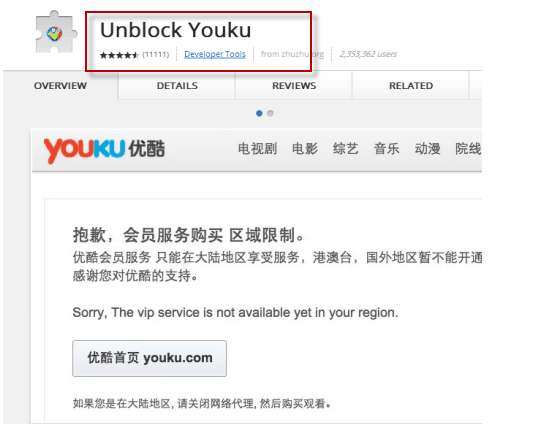 Using Proxy
When you access any website, several pieces of information are often sent. Your IP address is part of the information that is usually sent. Using your IP address, Youku gets to know your location and immediately shuts you off if you're trying to access the website while outside China. A Proxy service allows you to bypass this limitation.
Proxies act as intermediaries between two connecting devices. Before data reaches its intended destination, it will first go through proxy servers. The good thing about proxies is that some of them offer anonymity. Instead of connecting directly to Youku, you can use a proxy server that alters your IP address and hence fools the service that you're connecting from the mainland China. This enables you to watch Youku outside China.
Using a VPN
If you're outside mainland China, then you may find it more satisfying to use a Virtual Private Network (VPN). A VPN is basically a secured group of computers fitted with special infrastructure to connect users to the internet. VPNs can be used to protect your internet browsing identity as well as hide your location, which is what you need to explore geo-restricted websites like Youku.
When using a VPN to connect to the internet, it shows the IP address of that particular VPN you're connected to rather than your IP address. This means that to unblock Youku, you need a VPN with a permitted location. Your best bet here would be Hong Kong, and my VPN for this task would be Shellfire VPN.
Shellfire VPN has servers in Hong Kong that you can connect to, to guarantee you access to Youku streaming. Shellfire VPN is known for its ability to give quick access to blocked content worldwide, regardless of your location. The VPN also offers great speeds to help you stream in HD and guarantees safety while surfing the web.
If you want to enjoy Youku's wide range of TV shows and movies, but often find yourself stuck while outside mainland China, you can use the above tricks and techniques to access the website anywhere around the world. The best, most reliable and flexible method that you can employ with other streaming sites is a VPN.